5 Investing Insights & Strategies From Chinese New Year Games
Feb 3, 2022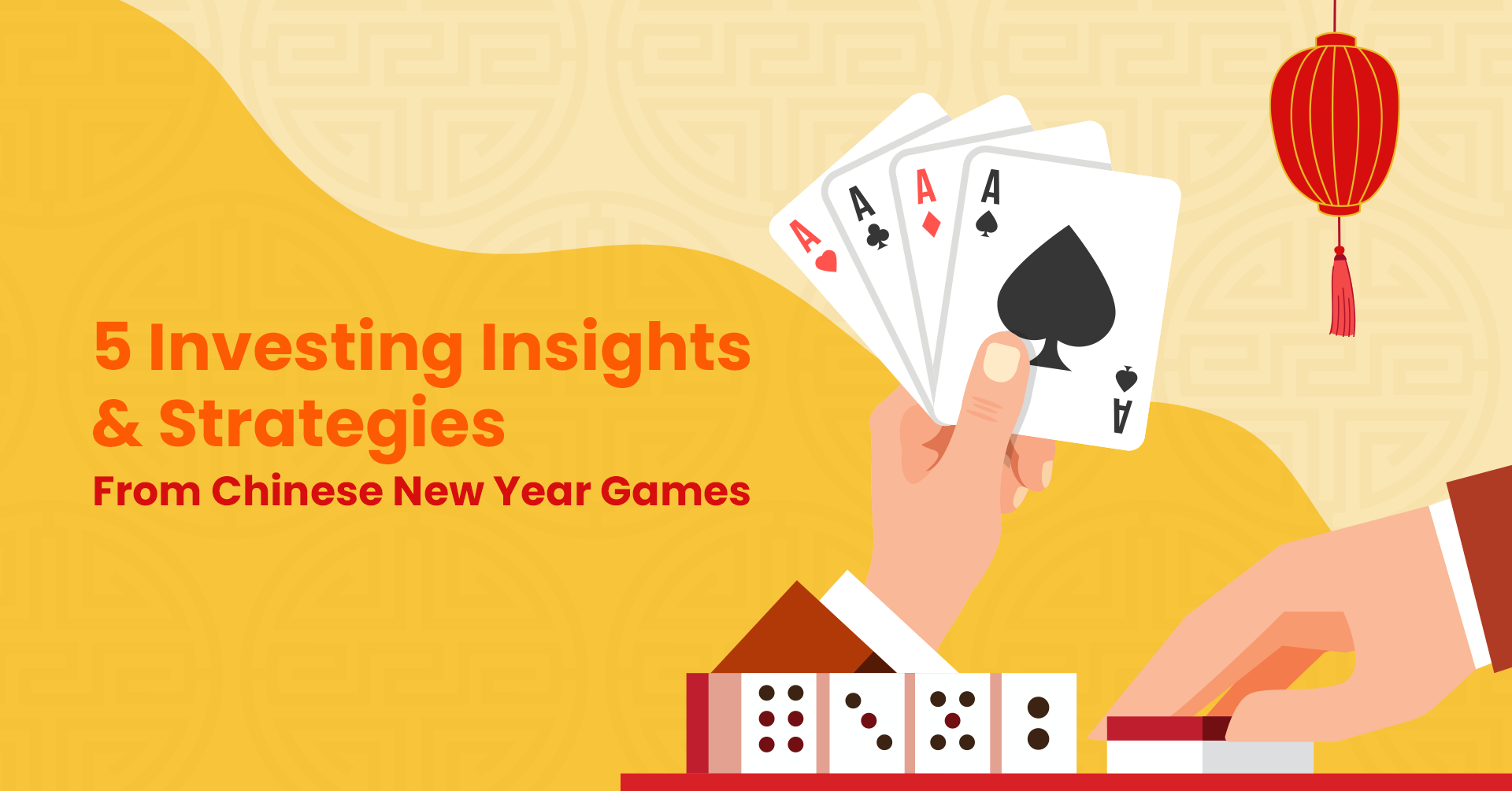 Gambling is a huge part of the Chinese New Year festivities. Pick up some investment knowledge while enjoying these popular CNY games!
Gong xi fa cai! The Year of the Water Tiger brings a season of feasting with loved ones, receiving (or giving) red packets, and bonding over Chinese New Year games like Blackjack and Mahjong.
Though current safe management measures for visitors are capped at 5 per household, festivities can still go on (safely and lawfully, of course!). If you're indulging in a gamble or two this Chinese New Year, learn these common investment concepts and strategies to level up your investment game.
Blackjack
With Blackjack, there are 2 general strategies: maintaining a constant bet amount for all the rounds or varying your bet amount in specific rounds.
Blackjack strategy 1: Maintain a constant bet
In the first strategy, players often choose to maintain a constant bet regardless of their luck in each round. This strategy allows them to mitigate losses by reducing risk of losing more when you bet more.
Investment strategy: Dollar-cost Averaging (DCA)
If you lean towards this strategy, you may prefer to do the same for your investing. Similarly, it involves investing a constant amount consistently, regardless of market conditions, on a weekly, monthly or quarterly basis, depending on what you are comfortable with. This strategy allows investors to have stable growth over a long period of time, instilling a sense of discipline to invest while taking away the emotional aspects of timing the market.
Blackjack strategy 2: Bet varying amounts at specific times
In the second strategy, players can choose to vary their bet amounts in specific rounds, especially when they feel lucky. If you make the right decisions, you could end up scoring big against the banker while building up your assets. However, you could also face greater losses in rounds where you lose with bigger bets.
Investment strategy: Lump-sum investing
Much like the second strategy, lump-sum investing involves investing when you have some extra cash on hand or if there is a market entry opportunity you would like to capitalise on. Similarly, while this could bring you greater gains in the short term, it could also increase your risk of losing more.
While these are 2 ways to invest, it is also important to note that both strategies are often used together – DCA-ing on the regular and pumping in extra when there are market opportunities to do so.
Investment term: Risk appetite
While playing Blackjack, the strategy you tend to lean towards can also tell you about your risk appetite. Like investing, you may utilise both strategies – or you may lean towards one.
Players who prefer the first strategy are likely to be more risk averse, which could indicate a more conservative investment approach. The DCA strategy may be a better way for you to mitigate your losses and manage your emotions when investing.
In contrast, players who lean towards the second strategy may be more likely to be risk takers. In investing, you may be aggressive with your investments – you are willing to take bigger risks for bigger rewards. Therefore, a lump sum (dominant) strategy may work well for you.
Mahjong
With Mahjong, there are various strategies to win and this could change depending on a few factors.
Investment concept: Opportunity cost
If you have a smaller hand, should you try to win fast with a 'kong' or try to build a bigger hand for a 'ping hu' while incurring risk?
While the answer varies with advice from each seasoned player, a similar investing concept can be observed and applied. Opportunity cost is the potential benefits an individual, investor, or business misses out on when choosing one alternative over another. Here, the important thing to consider is the trade off between certainty and returns.
If you aim for a smaller win, you might be certain of the result but possibly get lesser returns. But, if you build a bigger hand and aim for a larger win, you may get a larger return but this also opens you up for greater chances of loss.
Investment term: Risk appetite
With every game, there is a strategy or goal you might set for yourself. You may aim for a 1 'tai' win or a 5 'tai' win. While the former is easier to achieve, you may also gain lesser rewards from it. On the other hand, aiming for a 5 'tai' win may bring you greater rewards but may also take longer to accumulate and bring greater risk.
Similarly, this can tell you a lot about your risk appetite for investing, much like Blackjack. The former strategy may be more suitable for individuals who are risk averse and conservative while the latter may be more suitable for those who have the liquidity to afford the additional risk or have a longer time horizon – a willingness to invest in the market for a longer period of time.
Investment term: Concentration risk
When dealt with a good hand at the start of the game, it may be tempting to focus solely on it. However, this could limit your strategy as it depends heavily on the next few tiles you are able to draw.
Here, it is similar to concentration risk in investing. When you choose to invest, you should try to diversify your portfolio by including other asset classes, industry or geography. By doing so, you are able to spread the risk of relying solely on your chosen asset class, industry or geography to do well, in order for your portfolio to grow. One simple way to do this is by utilising robo-advisors like SqSave – allowing you to diversify with low barriers to entry.
Scored a windfall from CNY games or Hong Bao money this year? Invest with SqSave today!
After trying out the different strategies in your Chinese New Year games, you may find yourself with extra money lying around! SqSave's AI investing strategy helps you to diversify without the extra effort on your part.
In Mahjong, there's a saying that even bad hands have a game plan. When market conditions are not working in your favour, sometimes it may be necessary to relook your investment strategy and optimise it strategically.
Designed as a risk-managed AI-driven system that uses dynamic asset allocation to spread out your investment amounts into various asset classes– to diversify your portfolio and reduce investment risk. It decisively adjusts your portfolio with a focus on narrowing the predicted volatility based on your chosen risk profile, effectively protecting your portfolio while aiming for the highest probable returns.
P.s: For those who are looking to get started with SqSave, we have a special treat for you!
Take part in our TikTok challenge to guess how much is in our SqSave jar to stand a chance to win an $888 Gift-a-Portfolio! Find out more on our TikTok account here. Hurry, the contest ends on 14 February 2359!
Even better, get a headstart with SqSave this Tiger New Year by visiting us here!
Disclaimer
The contents herein are intended for informational purposes only and do not constitute an offer to sell or the solicitation of any offer to buy or sell any securities to any person in any jurisdiction. No reliance should be placed on the information or opinions herein or accuracy or completeness, for any purpose whatsoever. No representation, warranty or undertaking, express or implied, is given as to the information or opinions herein or accuracy or completeness, and no liability is accepted as to the foregoing. Past performance is not necessarily indicative of future results. All investments carry risk and all investment decisions of an individual remain the responsibility of that individual. All investors are advised to fully understand all risks associated with any kind of investing they choose to do. Hypothetical or simulated performance is not indicative of future results. Unless specifically noted otherwise, all return examples provided in our websites and publications are based on hypothetical or simulated investing. We make no representations or warranties that any investor will, or is likely to, achieve profits similar to those shown, because hypothetical or simulated performance is not necessarily indicative of future results.
More Articles more