EMERGING FROM A BRUTAL APRIL 2022…
6 May 2022
Our Lower-Risk Portfolios show Positive Returns (3-Mth & 12-Mth Trailing)!
Our SqSave AI algorithms have steered our lower risk reference portfolios to show positive returns of 1.9% to +2.5% for the trailing 3 months & +0.6% to +4.2% for trailing 12 months up to 30 April 2022. This is remarkable given how most other competitors have shown negative returns for the same periods.
This is even more significant given how April 2022 was the worst investment performance for US markets since March 2020!
S&P 500 fell 8.8% (April 2022) & down 13% (Jan-Apr 2022), its worst start to a year since 1939!
Dow Jones Industrial Average fell 5%
Nasdaq Composite fell 13%, its worst since the Global Financial Crisis of October 2008
Even Warren Buffett's Berkshire Hathaway couldn't escape the carnage, falling 3.8% in the last week of April.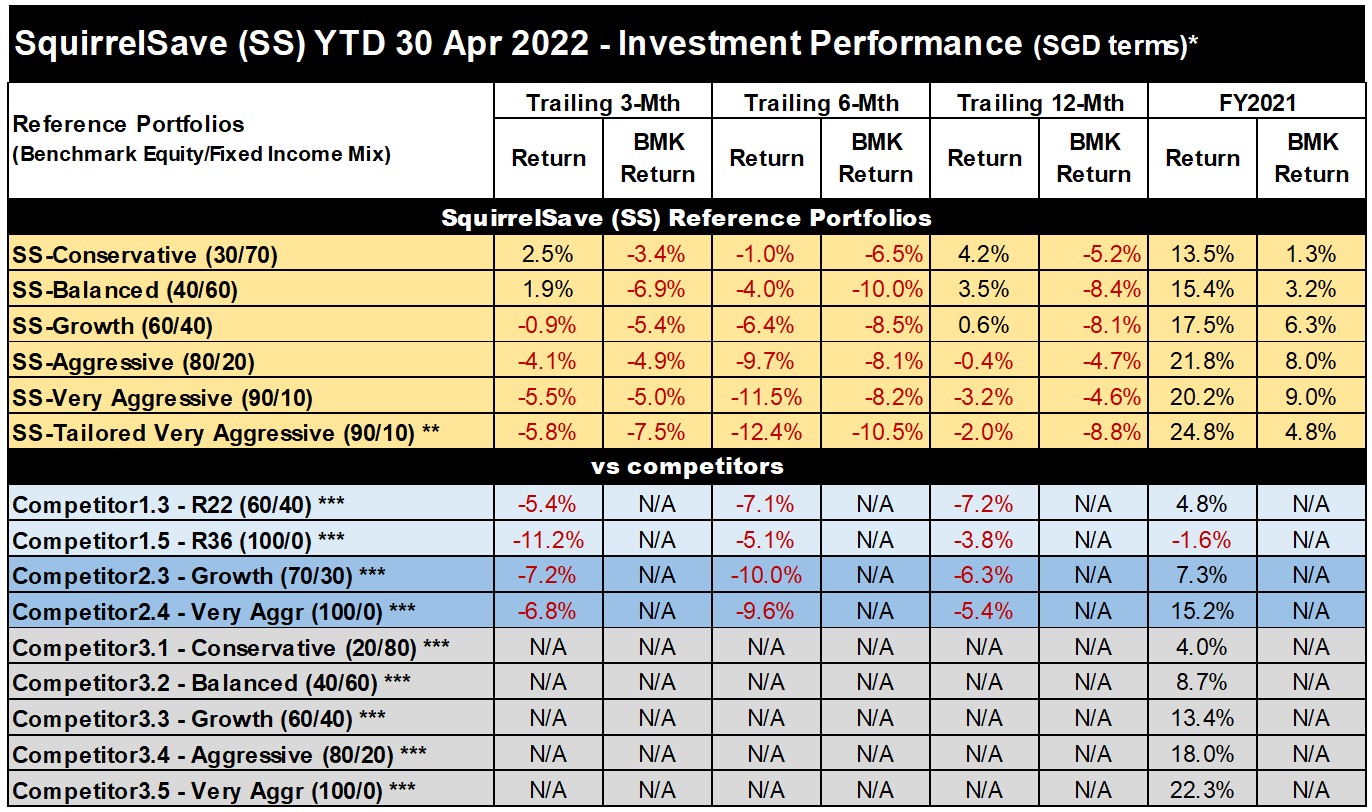 * Inclusive of ETF expense ratios and net of SqSave management fees. SqSave uses Artificial Intelligence (AI) to design and manage diversified investment portfolios for each investor. Because SqSave is not an investment fund, there is no single return measure. Instead, every SqSave investor has his/her own investment performance as each investor is managed separately by our SqSave AI. As investors can withdraw and top-up any time, investment returns will be affected by individual investor decisions. Hence, SqSave uses reference portfolios which are actual portfolios managed on an ongoing basis, without any interference with withdrawals or top-ups, to measure investment performance.
** Single portfolio investment amount more than SGD15,000
*** Performance numbers for competitors are estimates. Abbreviations: BMK: Benchmark; EQ: Equity; FI: Fixed Income; Ret: Return; Vol: Volatility; MDD: Maximum Drawdown
SqSave reference portfolios keeping up & adjusting to heightened volatility…
Observing our SqSave machine learning AI algorithms, we note the increasing gravity seemingly given to longer term data patterns. As a result, SqSave is performing well on a risk-adjusted basis – beating benchmarks mostly for the lower risk Conservative to Growth portfolios on the Trailing 3-Mth, Trailing 6-Mth & Trailing 12-Mth time horizons.
Baseline Outlook is Cautious…
A hawkish US Fed forbearing higher interest rates, higher than expected inflation, supply-chain woes, slower earnings growth, recession fears, and the collateral damage from the Ukraine war are obvious headwinds.
In particular, the risk of escalation in the Ukraine war remains significant.
Putin is increasingly being forced into a corner. A respectable off-ramp is needed, and if provided, will reassure jittery investment markets.
While we think a NATO-Russian war is unlikely (due to deterrence by nuclear weapons), nuclear sabre rattling by Russia can unnerve investment markets.
War may spread with destabilising actions in Moldova (Transnistria), and possible NATO membership for Sweden and Finland.
Energy is being weaponised by Russia cutting off gas supplies to bolster the Rouble and to sidestep Western sanctions. Energy prices will be pushed further if Europe bans Russian oil imports. This will fuel inflation fears.
Our base case for investment markets remains that US and global recessions can be avoided over the next 18 months. This means that we continue to take at least a 12- to 18-month time horizon in seeking out risk-adjusted returns.
Stay Calm & Invested…
We are facing heightened volatility. Knowing that investment returns are not guaranteed, each investor must be realistic about investment returns and choose the most suitable risk settings for oneself.
Even as markets swing up and down, as long as we have chosen suitable risk settings, we should not get a tummy upset. Remember, the value of your investment is just a number until you exit or sell the investment. Hence, it is critical to avoid human emotions causing us to "buy high and sell low".
With our SqSave AI machine learning system, we remove human emotions in investing. We let our AI-driven results speak for themselves.
Regards,

Victor Lye BBM CFA CFP®
Founder & CEO / Chief Investment Officer
SqSave Quantitative AI Team
Disclaimer
The contents herein are intended for informational purposes only and do not constitute an offer to sell or the solicitation of any offer to buy or sell any securities to any person in any jurisdiction. No reliance should be placed on the information or opinions herein or accuracy or completeness, for any purpose whatsoever. No representation, warranty or undertaking, express or implied, is given as to the information or opinions herein or accuracy or completeness, and no liability is accepted as to the foregoing. Past performance is not necessarily indicative of future results. All investments carry risk and all investment decisions of an individual remain the responsibility of that individual. All investors are advised to fully understand all risks associated with any kind of investing they choose to do. Hypothetical or simulated performance is not indicative of future results. Unless specifically noted otherwise, all return examples provided in our websites and publications are based on hypothetical or simulated investing. We make no representations or warranties that any investor will, or is likely to, achieve profits similar to those shown, because hypothetical or simulated performance is not necessarily indicative of future results. This advertisement has not been reviewed by the Monetary Authority of Singapore.
More Articles more