Insights Into SqSave AI's Dynamic Asset Allocation
March 3, 2022
In this blog, we share insights into SqSave AI which helped our low-risk reference portfolio achieve +3.24 per cent growth in the month of February 2022!
Remove human emotions from investing
SqSave is a 100% AI-driven digital investment service which makes "Smart Investing for Anyone, Anywhere, Anytime" simple and accessible. Yes, your SqSave investment portfolio decisions are machine made without human intervention - as designed (learn more). Of course, our Quantitative AI investment team watches the SqSave AI engine every day. In doing so, we have learnt good investment lessons – without human emotion.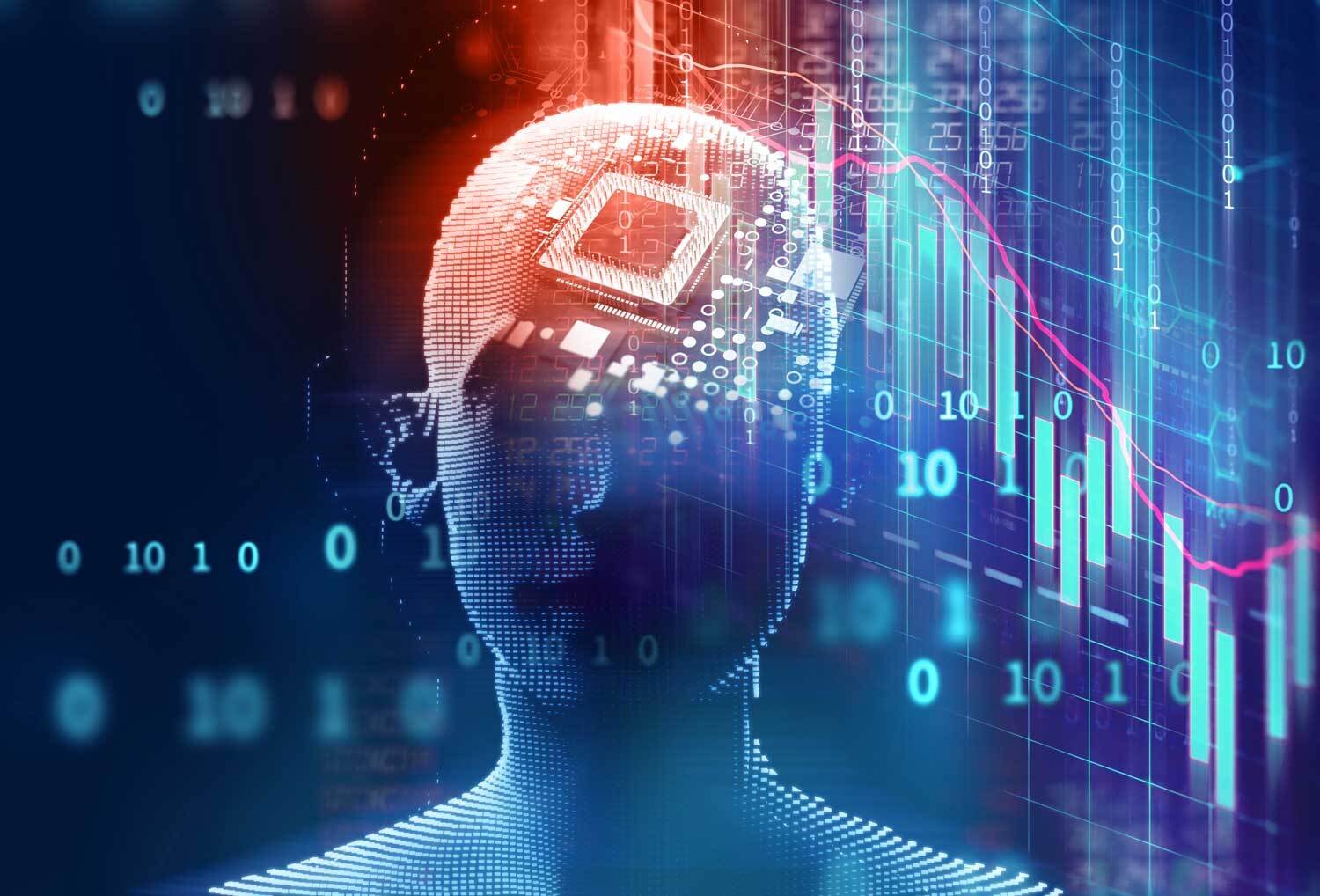 Front row seat staring at SqSave AI in action
Our blog SqSave AI seems to know something's happening" dated 12 Feb 2022 shared how our SqSave AI algorithms automatically switched out of fixed income assets on 18 Jan 2022 and invested heavily into Gold for the lower risk portfolios. 1 The last time SqSave switched so heavily to Gold was in Nov 2019, a few months before the Feb 2020 Covid market crash. 2

On 12 Feb 2022, we were asking what was SqSave AI anticipating? At that time, we had no definitive knowledge that Russia would invade Ukraine just 12 days later.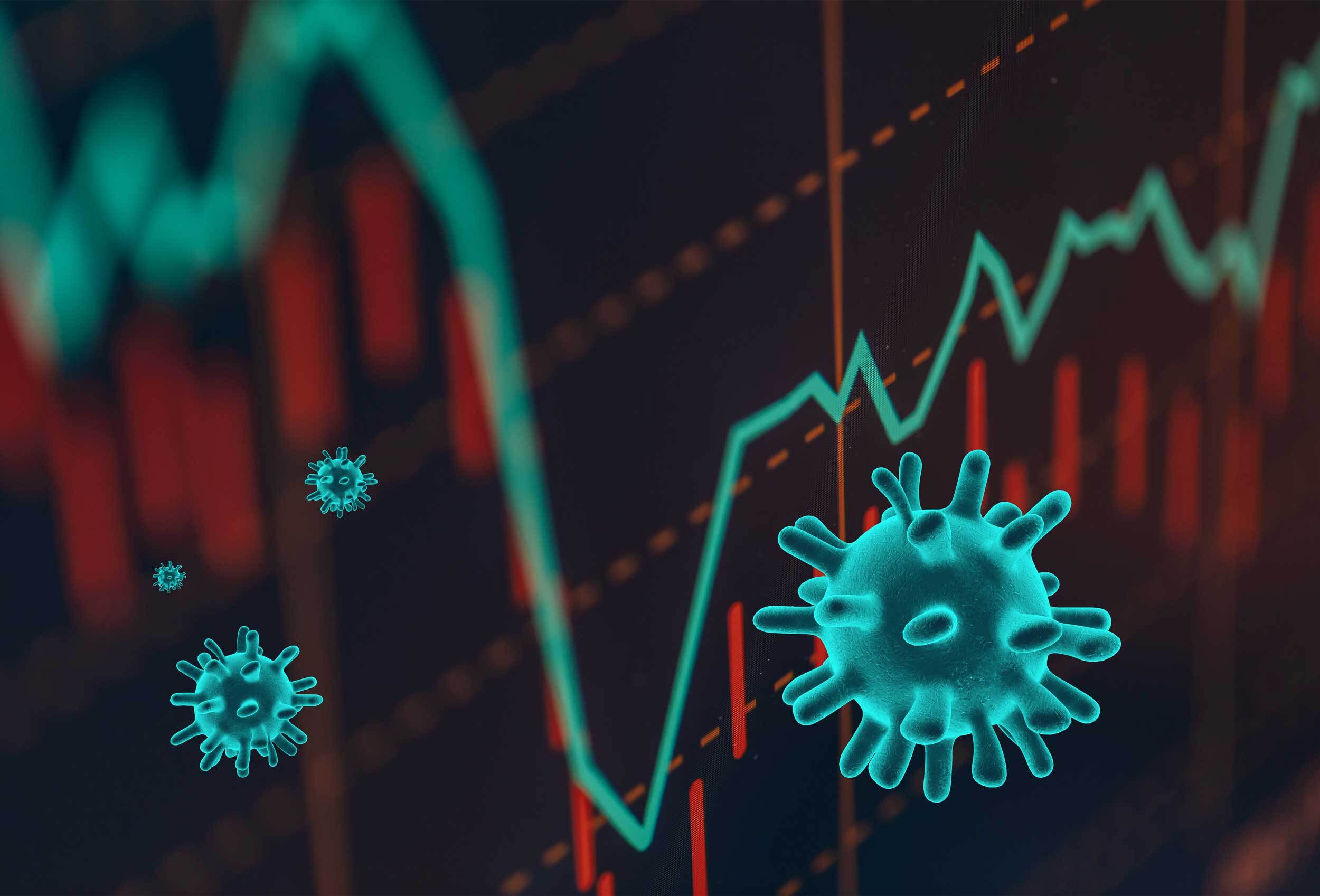 Sharing our insights based on data & performance results
Insights can be gleaned into how our SqSave AI works by simply looking at recent investment decisions. In this blog, we look at two specific insights:

• Insight A: Change in asset allocation between 18 Jan 2022 & 12 Feb 2022
• Insight B: Change in asset allocation between 12 Feb 2022 & 25 Feb 2022

In sharing insights into SqSave, we focus on the low-risk Conservative reference portfolio.3
INSIGHT A
After navigating Dec 2021 & Jan 2022 market volatility, SqSave's AI rebalanced the Conservative (low risk) reference portfolio on 18 Jan 2022 by:

increasing investments in:
(1) Gold - SPDR Gold Shares ETF (Ticker "GLD")4 – refer to INSIGHT A – Exhibit 1
(2) Diversified Commodities (Ticker "PDBC")5 - refer to INSIGHT A – Exhibit 1

and reducing exposure to:
(3) USA Nasdaq market - QQQ ETF (Ticker QQQ)6 – refer to INSIGHT A – Exhibit 2

INSIGHT A - Exhibit 1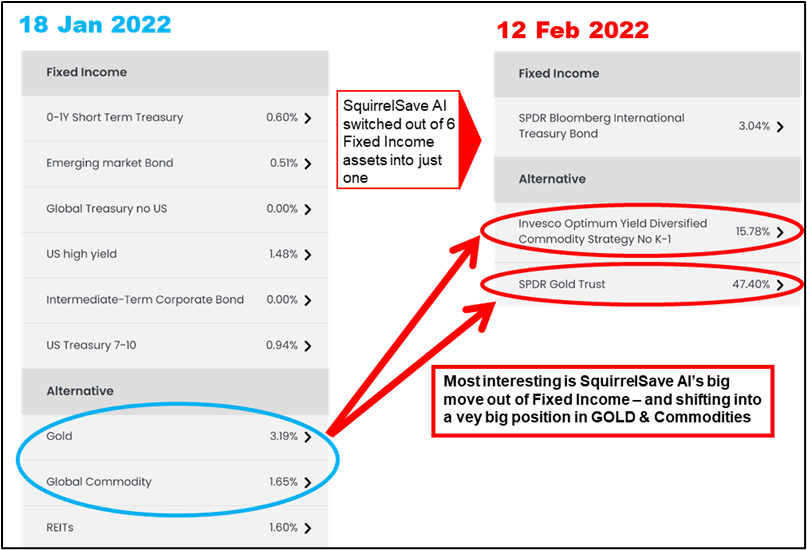 INSIGHT A - Exhibit 2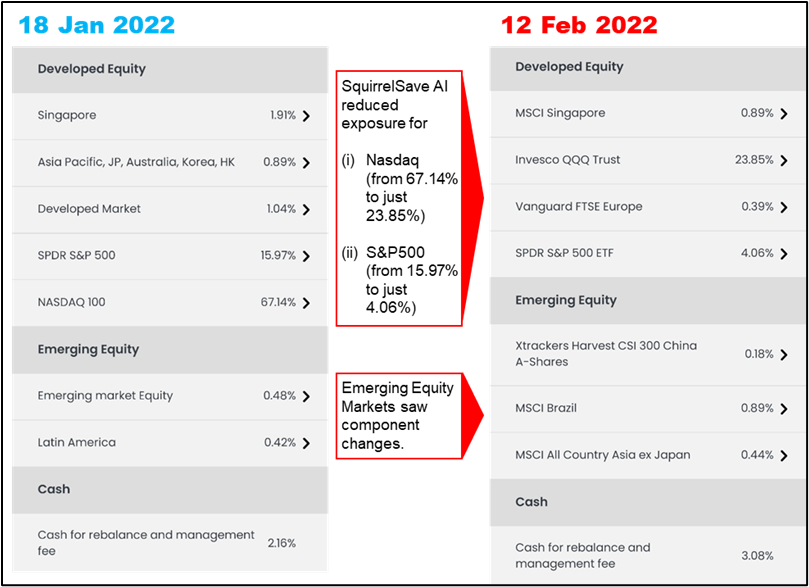 INSIGHT B
On 22 Feb 2022, SqSave AI rebalanced the low-risk Conservative portfolio. This time, SqSave made the following changes:

(1) Gold – reduced holdings from 47.4% to 36% (INSIGHT B – Exhibit 1)
(2) Diversified Commodities - increased from 15.78% to 18.61% (INSIGHT B – Exhibit 1)
(3) US Dollar – started new position of 2.54% bullish on USD (INSIGHT B – Exhibit 2)

We looked backwards at this SqSave decision three days later on 25 Feb 2022.

INSIGHT B - Exhibit 1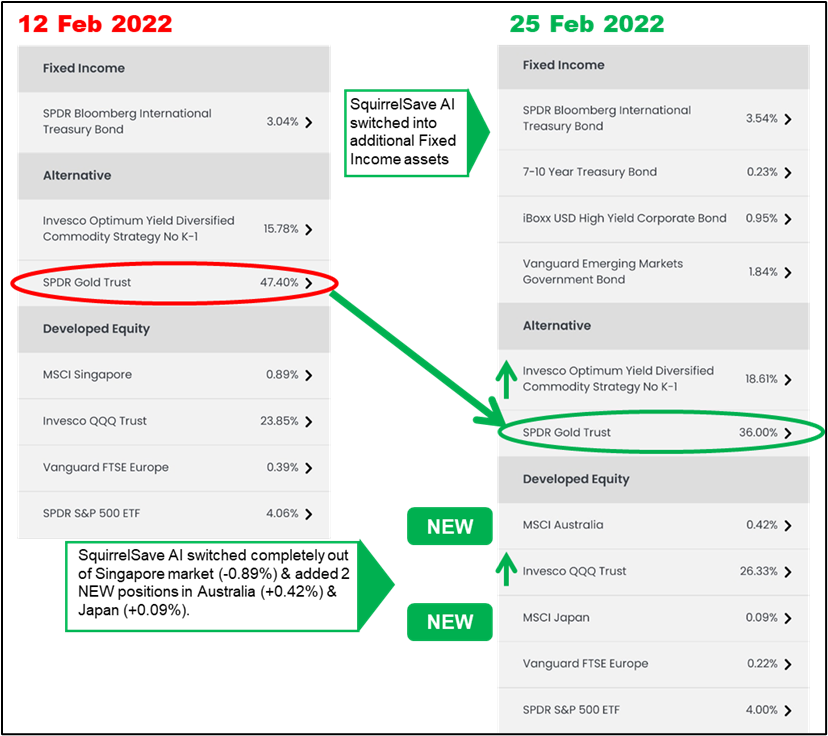 INSIGHT B - Exhibit 2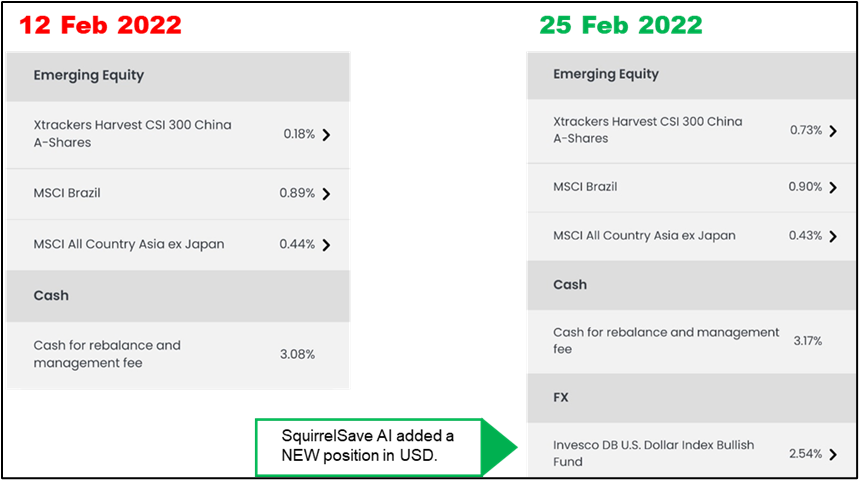 INTELLIGENCE OR COINCIDENCE?
We observed that SqSave made the rebalancing to reduce Gold on 22 Feb 2022. Three days later on 25 Feb 2022, we looked at the Gold price chart (Exhibit 3) and fell off our chair! Apparently, Gold price peaked in the short term on 23 Feb 2022, just after SqSave AI reduced Gold exposure. Did SqSave know something or was it a coincidence?
Exhibit 3
Then we looked at the QQQ (Nasdaq) price chart. This time, we could not get up as we stared at the fact that on 23 Feb 2022, the QQQ seemingly has bottomed out - right after SqSave increased its QQQ exposure on 22 Feb 2022.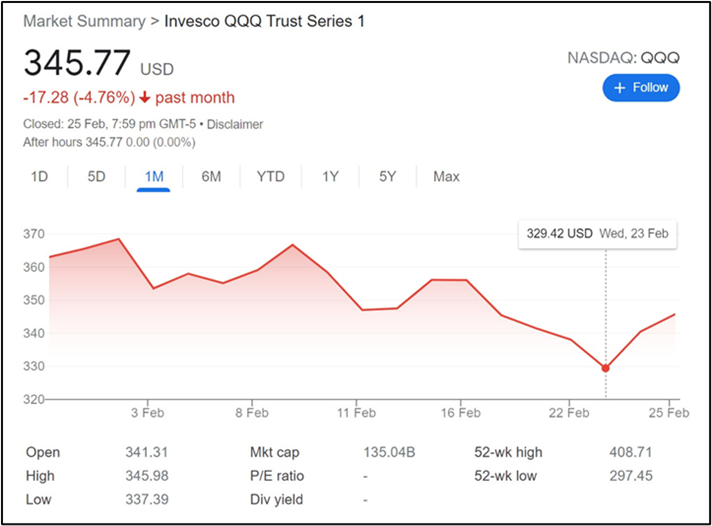 class="img-fluid"
Intelligence or coincidence, we will let the data and facts speak for themselves. These are very interesting insights into SqSave AI.
Impressive +3.24% Investment Performance for Feb 2022
SqSave AI's bold switch to Gold & Commodities since Jan 2022 has helped the low-risk Conservative reference portfolio grow +3.24 per cent for the month of Feb 2022!7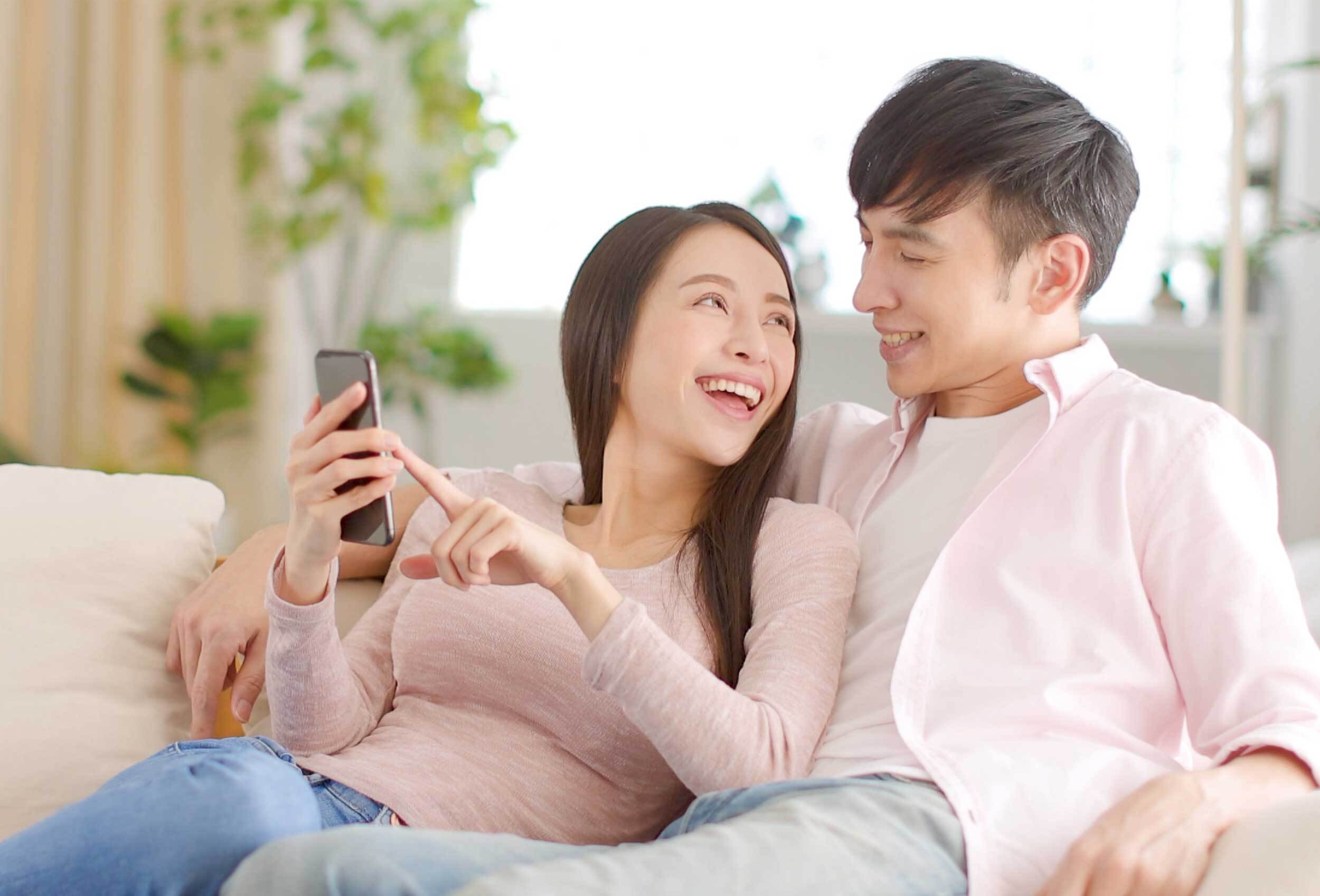 Our AI-driven investment algorithms work for you 24/7 without emotions
The insights show that SqSave is very different from other digital investment managers. Whereas most have a Chief Investment Officer who makes the final decisions, SqSave has designed a disciplined and consistent set of intelligent algorithms which make the final investment decisions, supervised by our Quantitative AI investment team.
SqSave AI is unique & different
The insights demonstrate just a small part of our machine learning techniques applied to the Nobel Prize winning Markowitz Modern Portfolio Theory with our proprietary parameters to seek the highest probable return for a given risk level chosen.
The exhibits above show how SqSave's dynamic asset allocation system works to navigate volatility and to squeeze out returns.
We trust the above insights are interesting for you to understand that SqSave AI is unique and different from conventional and even other digital investment managers.
Investing is to stay the course for the medium to long term
Remember, all investments carry risks. Volatility generates opportunities for investment returns. Our SqSave AI uses data and AI-driven methods to manage investment risks through portfolio diversification.
Once you decide the risks you can tolerate, SqSave designs a portfolio for the risk you set. Further, it remembers you exactly – unlike a human manager – and automatically rebalances dynamically in response to volatility – as shown in the insights we presented above.
No matter how volatile markets care, data clearly shows you should stay the course for better investment outcomes.
Join the world of Smart Investing today at SqSave!
Regards
SqSave Quantitative AI Investment Team
Disclaimer
The contents herein are intended for informational purposes only and do not constitute an offer to sell or the solicitation of any offer to buy or sell any securities to any person in any jurisdiction. No reliance should be placed on the information or opinions herein or accuracy or completeness, for any purpose whatsoever. No representation, warranty or undertaking, express or implied, is given as to the information or opinions herein or accuracy or completeness, and no liability is accepted as to the foregoing. Past performance is not necessarily indicative of future results. All investments carry risk and all investment decisions of an individual remain the responsibility of that individual. All investors are advised to fully understand all risks associated with any kind of investing they choose to do. Hypothetical or simulated performance is not indicative of future results. Unless specifically noted otherwise, all return examples provided in our websites and publications are based on hypothetical or simulated investing. We make no representations or warranties that any investor will, or is likely to, achieve profits similar to those shown, because hypothetical or simulated performance is not necessarily indicative of future results.
---
1
What has intrigued and impressed traditional investment managers is the detailed asset allocation managed by SqSave. From the traditional operational perspective, such fine and detailed asset allocations are humanly tedious and impractical. But with SqSave's quantitative AI machine, handling hundreds of thousands of calculations up to several decimal points and with precise accuracy, the humanly impossible become reality. That's the artificial intelligence in action at SqSave. For an insight into the SqSave AI framework,
read our Oct 2019 Whitepaper on SqSave's Factor Analytics Machine Learning Engine ("FAME")
.
2
When we launched SqSave in late 2019, little did we know then that after a few months, our machine learning AI algorithms would be battle-tested by the Covid-19 pandemic. We shared the experience in our
blog dated 9 March 2020 "Covid-19: Has Fear Run Ahead of Markets?"
where we highlighted that the intense fear and the Feb 2020 Covid-19 market crash offered a good investment opportunity. It turned out to be right, as supported by past crises. Invest when there is fear.
3
SqSave is not an investment fund. Hence, there is no single return measure that applies to everyone. Each SqSave client has an investment portfolio that is managed separately by our SqSave AI. As investors can withdraw and top-up any time, investment returns will be affected by individual investor decisions. Hence, SqSave uses reference portfolios which are actual portfolios managed on an ongoing basis, without any interference with withdrawals or top-ups, to measure investment performance.
4
GLD invests directly in physical gold.
5
Actively managed exchange-traded fund ("ETF") that invests in financial instruments linked to the world's most heavily traded commodities such as oil, agricultural produce or raw metals.
6
QQQ tracks a modified-market-cap-weighted index of 100 NASDAQ-listed stocks.
7
SqSave looks at medium to longer term returns. Our AI design is to manage risk exposure across a mix of investment assets that form the portfolio for a given client. The machine-managed risk exposure is based on the investment risk appetite set by the client.
More Articles more