2023 MARKET OUTLOOK
29 Nov 2022
We are dealing with extended anxiety in recent months. So far this year, the S&P 500 was down over 25 percent at its lowest closing level on 12 Oct 2022. Only twice before in the last 22 years, has the S&P 500 declined by more than 24 percent; in 2002 and in 2008, as shown in Chart 1 below. However, S&P 500 has since risen about 10 percent from its closing level on 12 Oct 2022 as of 28 Nov-2022 (c.f. Chart 4). What can we look forward to in 2023?
Chart 1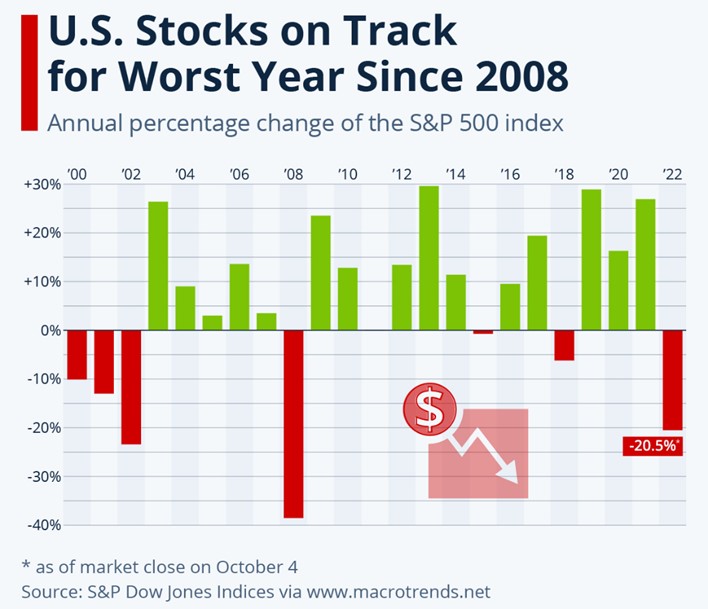 Source: S&P Dow Jones
Global Growth Outlook Weakens with Yield Curve Inversion
You may have heard about "yield inversion" which has heightened anxiety about the likelihood of a global recession. Corporate earnings will be adversely affected by negative economic growth. This will dampen the outlook for capital market asset prices such as bonds and equities.
Investors usually need a bigger return if they buy bonds with longer maturities. The need to keep up with inflation will be one reason, among others. Therefore, under normal conditions, the yield curve slopes upwards - to show higher returns for longer time invested.
However, a yield inversion occurs when shorter-term bonds have higher yields than long-term bonds. A yield inversion signals the likelihood of an approaching recession.
Recently, we are seeing a downward sloping curve, or an "inverted yield curve" in the USA where the shorter 2-year Treasury bond is paying a higher annualised yield till maturity than the 10-year Treasury bond. This "2-10 Yield Inversion" is the strongest in over 40 years since 1982, as seen in Chart 2 below.
Chart 2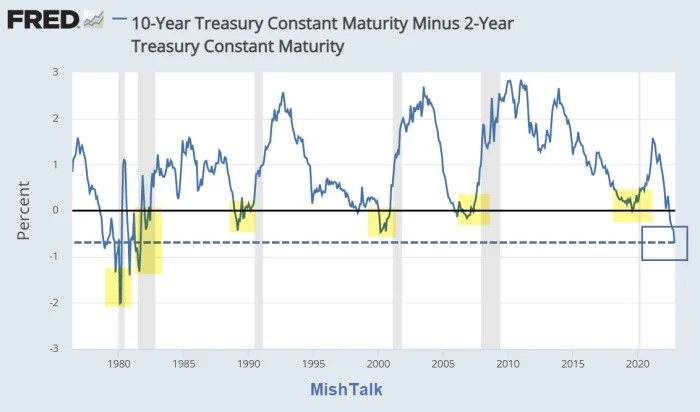 Source: Federal Reserve Bank of St. Louis
Need to Watch for Global Financial Stress
The USA stock market is having its worst year since 2008. The 2020 Covid-19 pandemic market crash looks tame by comparison where the recovery was swift, supported by massive government led consumer aid programs and liquidity that was pumped into the markets.
Chart 3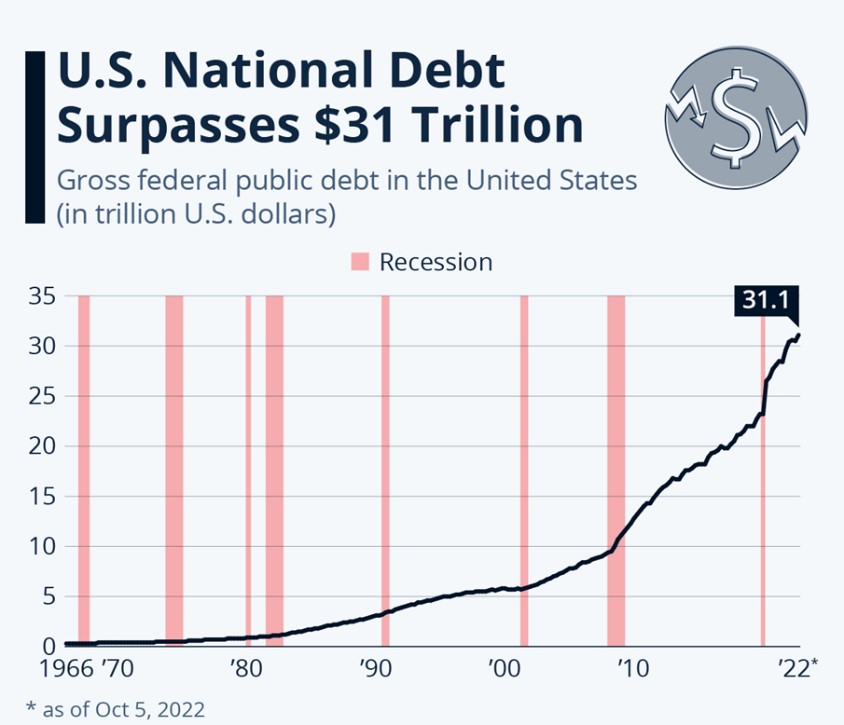 Source: Federal Reserve Bank of St. Louis
Unfortunately, much of the extra liquidity was funded by printing money – or simply put, debt to be paid by future generations. The USA national debt has surpassed USD 31 trillion for the first time in early October 2022.
Higher interest rates meant to fight inflation will, therefore, make future loan servicing more costly. With global finance linked closely than ever before, we need to watch for financial stress.
Inflation Needs to be Tempered for a Slowdown in Interest Rate Hikes
Looking forward into 2023, we believe there is room for a reversal of 2022's relatively strong growth, rising inflation and higher interest rates.
As interest rate hikes become smaller, bonds should recover and do well. Within equities, emerging markets which saw large outflows in the flight to safety, should recover, albeit not as dramatically as the post dotcom bust in the early 2000s and following the Global Financial Crisis in 2008.
SqSave Asset Allocation Outlook
On a longer-term trailing one- and two-year basis, SqSave's returns have mostly outpaced their benchmarks. In the trailing two-year period, our low- to mid-risk portfolios have outperformed their benchmarks by 22.4%, 18.3%, and 10.4%, respectively (as at end Oct 2022).
Our Machine Learning engine has managed investment risks in a consistent manner across our various risk profiled reference portfolios, via Artificial Intelligence (AI) driven methods. Reflecting this, in August, our AI shifted portfolio allocations towards a more defensive positioning, to help cushion against further renewed downside emerging. Currently, some of our portfolios have shifted to more progressive allocations. Our observation shows that our dynamic asset allocation algorithm can adjust the risk exposure to protect downside volatility when market sentiment is bearish and re-adjust risk exposure upwards when the markets are reflecting a change towards an uptrend.
With slower or negative economic growth expected to emerge, together with slowing inflation and the impact of monetary tightening policies, we expect 2023 to bring upside for bonds, defensive stocks and emerging markets. Most markets and asset classes will continue to remain volatile for the near-term as asset valuations recalibrate amidst slower corporate earnings and economic growth expectations. A big known unknown is China's willingness and timing to reverse its zero-Covid policy.
Our asset allocation algorithms will see diversification benefits as interest rate hikes slow down. We are confident that our SqSave investment portfolios remain well-positioned overall to weather changing market conditions, including once markets start to recover as always, as in past economic cycles.
Chart 4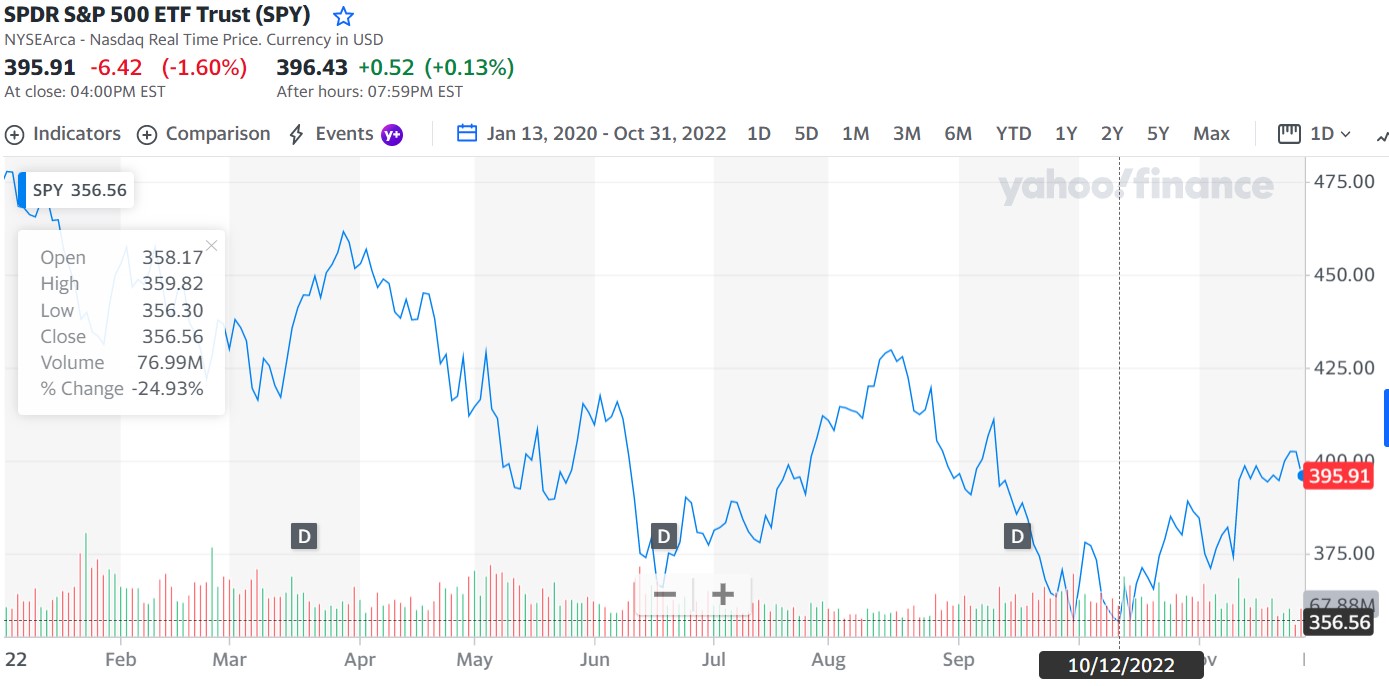 Source: Yahoo! Finance
Yours sincerely
SqSave Quantitative Investment Team
Disclaimer
The contents herein are intended for informational purposes only and do not constitute an offer to sell or the solicitation of any offer to buy or sell any securities to any person in any jurisdiction. No reliance should be placed on the information or opinions herein or accuracy or completeness, for any purpose whatsoever. No representation, warranty or undertaking, express or implied, is given as to the information or opinions herein or accuracy or completeness, and no liability is accepted as to the foregoing. Past performance is not necessarily indicative of future results. All investments carry risk and all investment decisions of an individual remain the responsibility of that individual. All investors are advised to fully understand all risks associated with any kind of investing they choose to do. Hypothetical or simulated performance is not indicative of future results. Unless specifically noted otherwise, all return examples provided in our websites and publications are based on hypothetical or simulated investing. We make no representations or warranties that any investor will, or is likely to, achieve profits similar to those shown, because hypothetical or simulated performance is not necessarily indicative of future results.
More Articles more