MY SQSAVE PORTFOLIO: +35% in 25 months
Jun 26, 2021
Last night, someone who had read my blog dated 2 April 2021 asked about my SqSave portfolio…
In that blog, I had shared how my SqSave portfolio had performed since June 2019 when I had invested SGD 15,000.
At end-March 2021, my portfolio value was SGD 18,985 or an investment appreciation of +27% over 22 months.
On a yearly basis, that's around +14% per annum. Quite decent, in my view, compared to leaving it in a bank account.
My SqSave portfolio (set at Very Aggressive risk level) has appreciated by another +6.6% since end-March 2021…
This is a total return of +35% in just over 2 years! That's an annual compounded return of +16% per annum.
31st March 2021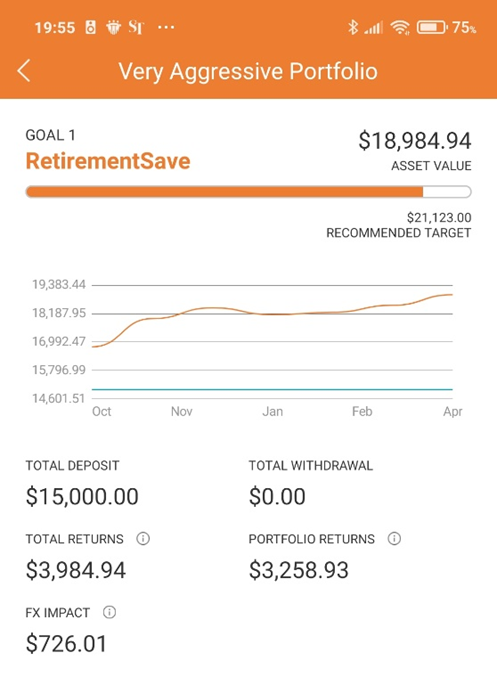 25th June 2021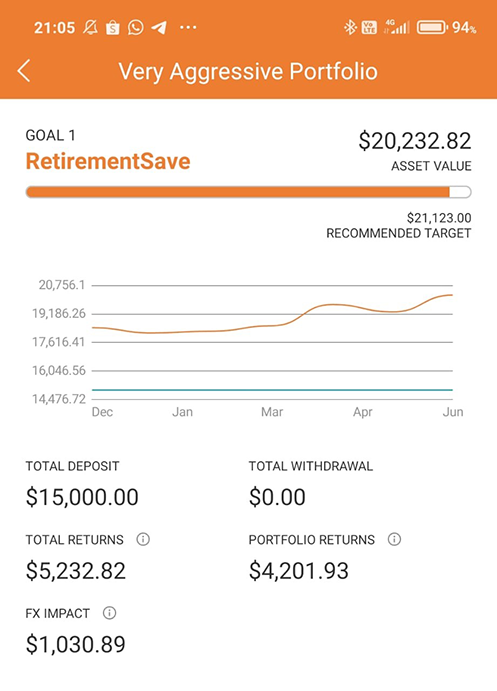 Benefit from SqSave's fully AI-driven investment management technology…
Unlike traditional investment products such as unit trusts, SqSave is not a fund.
SqSave is a fully automated risk-based investment management service which uses machine learning AI techniques to construct and manage portfolios to target longer-term risk-adjusted returns.
Given my years in the investment space, my idea is to remove emotion and gut feel from conventional investment management. A human manager will find it almost impossible to diversify globally 24/7. Hence, a human way to diversify boils down to personality and gut feel – instead of a 24/7 quantitative and disciplined approach. SqSave makes it possible by applying AI methods that have become available in recent years.
Join the world of Smart Investing today at SqSave!
Regards
Victor Lye BBM CFA CFP®
Founder & CEO, SqSave
PIVOT Fintech Pte. Ltd.
* SqSave uses AI to design and manage diversified investment portfolios for each investor. Because SqSave is not an investment fund, there is no single return measure. Instead, every SqSave investor has his/her own investment performance as each investor is managed separately by our SqSave AI. As investors can withdraw and top-up any time, investment returns will be affected by individual investor decisions. Hence, SqSave uses reference portfolios which are actual portfolios managed on an ongoing basis, without any interference with withdrawals or top-ups, to measure investment performance.
Disclaimer
The contents herein are intended for informational purposes only and do not constitute an offer to sell or the solicitation of any offer to buy or sell any securities to any person in any jurisdiction. No reliance should be placed on the information or opinions herein or accuracy or completeness, for any purpose whatsoever. No representation, warranty or undertaking, express or implied, is given as to the information or opinions herein or accuracy or completeness, and no liability is accepted as to the foregoing. Past performance is not necessarily indicative of future results. All investments carry risk and all investment decisions of an individual remain the responsibility of that individual. All investors are advised to fully understand all risks associated with any kind of investing they choose to do. Hypothetical or simulated performance is not indicative of future results. Unless specifically noted otherwise, all return examples provided in our websites and publications are based on hypothetical or simulated investing. We make no representations or warranties that any investor will, or is likely to, achieve profits similar to those shown, because hypothetical or simulated performance is not necessarily indicative of future results.
More Articles more