Outstanding SqSave Performance in March & YTD 2023
5 Apr 2023
Market outlook
Core inflation remains stubborn in both the U.S. and the Euro area, with no signs of stabilizing back at central banks' 2% targets. Despite goods prices falling as consumer spending returns to pre-Covid patterns, persistent worker shortages in both economies are causing wages to rise rapidly, feeding into higher services prices and keeping inflation elevated. As these shortages are unlikely to resolve soon, we expect central banks to maintain high interest rates to reduce demand spending. This approach differs from past recessions, as rate cuts are not anticipated to support risk assets.
As central banks attempt to bring inflation down to policy targets, a recession is foretold. The old playbook of "buying the dip" is not applicable in this regime of sharper trade-offs and greater macro volatility. Economic damage is evident in the financial cracks emerging from higher interest rates on rate-sensitive sectors. Central banks will likely halt rate hikes once the economic damage becomes clear.
We think the "politics of inflation" narrative will change, and that we will be living with inflation persisting above policy targets in the coming years. Long-term constraints keeping the new regime in place and inflation above pre-pandemic levels include aging populations, geopolitical fragmentation, and the transition to a lower-carbon world.
In light of these circumstances, the forecast for the next 3 to 6 months suggests a high probability of sustained volatility, at least until economic data and inflation levels align with the Federal Reserve's expectations.
SqSave portfolios continues to show good results
Our SqSave algorithms performed well – beating respective benchmarks mostly over the following time horizons (see table below):
YTD 31 March 2023
Trailing one-year (T1Y)
Trailing two-year (T2Y)
SqSave Reference Portfolios Returns (SGD terms as at 31 Mar 2023)*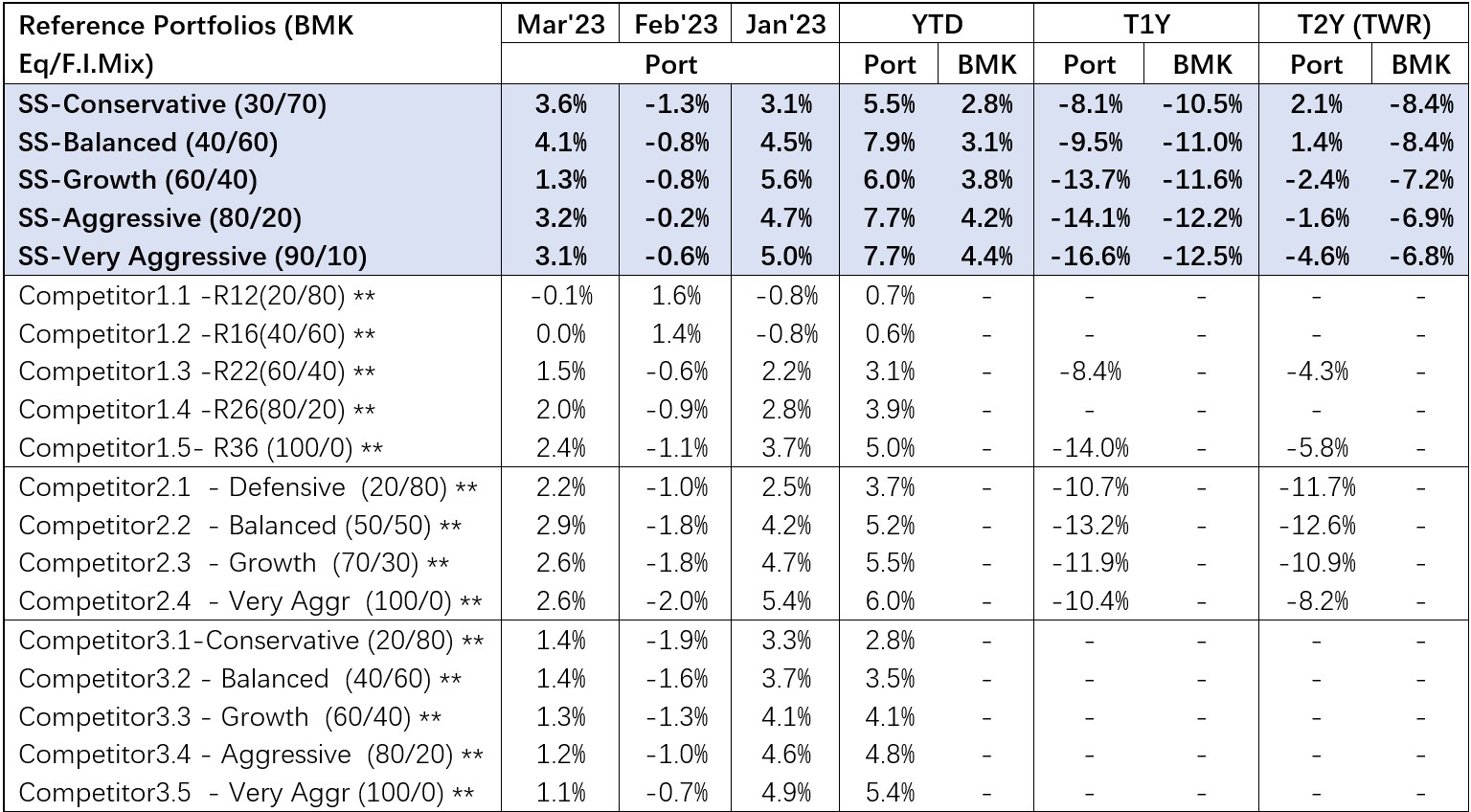 *Inclusive of ETF expense ratios and net of SqSave management fees. SqSave uses AI to design and manage diversified investment portfolios for each investor. Because SqSave is not an investment fund, there is no single return measure. Instead, every SqSave investor has his/her own investment performance as each investor is managed separately by our SqSave AI. As investors can withdraw and top-up any time, investment returns will be affected by individual investor decisions. Hence, SqSave uses reference portfolios which are actual portfolios managed on an ongoing basis, without any interference with withdrawals or top-ups, to measure investment performance. ** Performance numbers for competitors are estimates. Abbreviations: BMK: Benchmark; Ret: Return, TWR: Time Weighted Return.
Notable takeaways from the March performance returns are as follows:
In March 2023:

All SqSave's reference portfolios outperformed both their respective benchmarks.
4 of 5 risk-managed SqSave portfolios outperformed the tracked competitors.

We are pleased that the results show that our algorithms are working well.
On a year-to-date (YTD) 2023 basis, all SqSave portfolios beat their respective benchmarks and tracked competitors by compelling margins. This reinforces our belief that our SqSave algorithms are working as designed over the mid-term time horizon.
Over the latest trailing 1Y period (T1Y), SqSave's low-to-mid risk portfolios beat their respective benchmarks as well as selected comparable competitors' portfolios (based on available data).
In terms of downside risk management, SqSave's reference Conservative and Balanced risk portfolios performed well over the trailing 2Y period (T2Y), with positive returns of 2.1% and 1.2%, respectively, while competitor #2 significantly underperformed with -11.7% and -12.6% for its comparable portfolios.
Looking ahead, our SqSave algorithms ran quantitative optimizations and rebalanced the portfolios in early April 2023. Our team will continue monitoring the performance of your SqSave portfolios.
Yours sincerely
SqSave Investment Team
Disclaimer
The contents herein are intended for informational purposes only and do not constitute an offer to sell or the solicitation of any offer to buy or sell any securities to any person in any jurisdiction. No reliance should be placed on the information or opinions herein or accuracy or completeness, for any purpose whatsoever. No representation, warranty or undertaking, express or implied, is given as to the information or opinions herein or accuracy or completeness, and no liability is accepted as to the foregoing. Past performance is not necessarily indicative of future results. All investments carry risk and all investment decisions of an individual remain the responsibility of that individual. All investors are advised to fully understand all risks associated with any kind of investing they choose to do. Hypothetical or simulated performance is not indicative of future results. Unless specifically noted otherwise, all return examples provided in our websites and publications are based on hypothetical or simulated investing. We make no representations or warranties that any investor will, or is likely to, achieve profits similar to those shown, because hypothetical or simulated performance is not necessarily indicative of future results.
More Articles more