Pandemic One Year on with Vaccines, Global Recovery & Rise of Crypto...
Mar 16, 2021
A shared memory seared into this generation…
All of us still breathing should give pause to mourn those who have perished during this pandemic. Going forward, we must be mindful of the immense and uneven suffering wrought by Covid-19. The lower income, women and children have suffered the brunt.
Even as vaccines are rolled out, the pandemic effects will last. Our lives have changed. This experience is shared across the world, though unevenly, with this generation likely to recall this as a pivot point. There is no going back to the way before. How we work, learn and interact has changed.
Reflecting on the first Covid-19 anniversary…
One year ago, the World Health Organization (WHO) declared the COVID-19 outbreak a pandemic. But the virus had already spread globally. WHO's declaration simply confirmed what the data was showing.
In fact, when WHO called it a "pandemic" on 11 March 2020, the global investment markets had already reacted – starting largely from 19 Feb 2020, the "Covid-19 crash". It was a live crash test of our SqSave AI algorithms. Read my previous blog how our SqSave portfolios were doing as the markets started wobbling.
We saw cycles of infection and re-infections in various countries. In China, the authorities literally bedded down the Covid-spread in Wuhan with a building frenzy to increase hospital beds alongside a globally unprecedented city quarantine.
With unemployment soaring, governments injected liquidity to support the economy. This fuelled inflation in the stock markets.
One year on, people are getting used to working from home (WFH). We now have vaccines. While it will still take some time to play out, the end is in sight. As the global economy recovers, we will not return to the pre-Covid normal – as business models and social behaviour becomes more digitalized. One of the quiet revolutions is in the digitalization of fiat money and the rise of digital assets.
Inflation concerns loom…
The new Biden Administration has approved a USD 1.9 trillion emergency relief package. This is on top of the massive USD 3 trillion printed during the Trump Administration in 2020.
The unprecedented money printing is manifested in the sharp jump of the US Federal Reserve's balance sheet. Note how much was added in just 2020 alone relative to history.
Fig 1A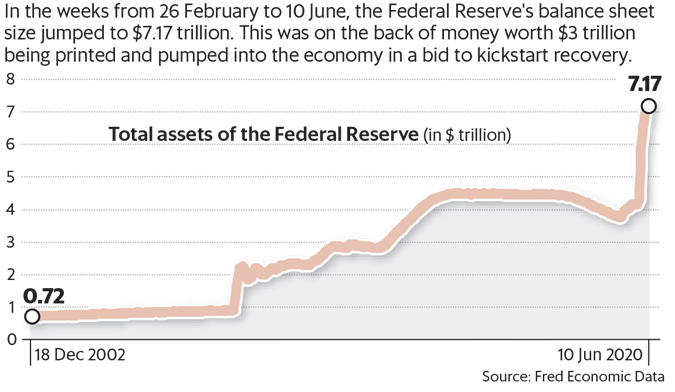 Strong recovery expected…
We expect a strong global economic recovery with vaccine optimism and stimulus. But the surge in US dollars has fuelled worries about inflation as we enter the vaccination phase of the pandemic.
The bond markets have reacted with concerns about possible overheating and inflation. However, we think there is a bit of a runway before we see inflation becoming a concern.
…but real risk may be the US dollar
One risk ahead is the US dollar itself. And here, I share my developing interest in digital crypto assets because of such US dollar concerns.
US Dollar and inflation worries make Crypto more alluring…
Since 2015, I have followed the emergence of blockchain as new technology infrastructure. Blockchain is a form of distributed ledger technology on which applications can be built. In particular, blockchain mining rewards such as the popular Bitcoin became a sought-after medium of exchange in the dark web because of its underlying immutability and anonymity.
From crypto sceptic to tech adopter…
As Bitcoin trading priced in US dollars caught on, I was sceptical. Indeed, speculative frenzy fed a flurry of cypto assets and coins fuelling crypto-wallets and internet coin offerings in 2016/2017. My scepticism was reinforced by the outright scams and failed crypto projects. That was then.
By mid-2020, I viewed the crypto-world differently. With Covid-19 disrupting life and precipitating unprecedented monetary and fiscal policies to support otherwise collapsing economies, I began to see crypto as an alternative to fait money with potential user cases for driving financial applications such as payments and digital contracts. My crypto review was based on two maxims:
1. Crypto is going mainstream.
2. Crypto is valuable as technology, not currency.
Crypto going mainstream….
First time wealthy and institutional investors are scooping up Bitcoin. This surge in mainstream demand contrasts with Bitcoin's first run-up years ago which was driven by anonymous speculators. There is greater transparency than the early days with more established crypto exchanges and KYC measures. Apart from well-known individual investors, corporations such as Square, Paypal, JP Morgan, Tesla, Mass Mutual and others have started buying Bitcoin, with plans to use it for payments.
After much doubt, the world's first Bitcoin ETF has been launched in Canada. The Purpose Investments bitcoin ETF (BTCC) crossed USD 590 million in assets under management after its launch in mid-Feb 2021. It gives investors a way to more directly invest (or speculate) in Bitcoin – and is an alternative to the Grayscale Bitcoin Trust (GBTC) closed-end fund.
A second Bitcoin ETF, the Evolve bitcoin ETF (EBIT) was also launched. These are buy-and-hold investment vehicles. We will see more such crypto-funds launched as it goes mainstream. At PIVOT, we use AI to improve investment outcomes by managing risk. As crypto-assets have no intrinsic value because it does not have any inherent cashflows, perhaps there is scope for AI to be applied in managing crypto-funds.
…and crypto becomes valuable with more technology infrastructure use cases
As more user cases such as in Decentralised Finance develop, crypto will become valuable. Given likely developments, crypto assets cannot be dismissed as a possible investment instrument in asset allocation – particularly for high-net-worth clients who can afford to take such extreme risks.
Smart Investing at SqSave!
At this one-year pandemic milestone, vaccinations will accelerate across the world in the coming months. In the wake of this unprecedented Covid-19, we shall see how inflation and US dollar credibility will play out.
Digital assets such as crypto is becoming mainstream with possible use cases to drive technology applications. Such crypto investments may even be considered in the asset allocation for high net worth clients as more investment vehicles for crypto are launched.
Whatever the assets, it's best to approach investing with a clear risk-managed view. Taking emotions out of investing is strongly advised – especially when markets are uncertain. That's where SqSave AI can be of help.
At SqSave, our machine learning system will do the investing for you. Anyone can participate in global investing starting from ONE Dollar at SqSave!
Victor Lye BBM CFA CFP®
Founder & CEO, SqSave
PIVOT Fintech Pte. Ltd.
Disclaimer
The contents herein are intended for informational purposes only and do not constitute an offer to sell or the solicitation of any offer to buy or sell any securities to any person in any jurisdiction. No reliance should be placed on the information or opinions herein or accuracy or completeness, for any purpose whatsoever. No representation, warranty or undertaking, express or implied, is given as to the information or opinions herein or accuracy or completeness, and no liability is accepted as to the foregoing. Past performance is not necessarily indicative of future results. All investments carry risk and all investment decisions of an individual remain the responsibility of that individual. All investors are advised to fully understand all risks associated with any kind of investing they choose to do. Hypothetical or simulated performance is not indicative of future results. Unless specifically noted otherwise, all return examples provided in our websites and publications are based on hypothetical or simulated investing. We make no representations or warranties that any investor will, or is likely to, achieve profits similar to those shown, because hypothetical or simulated performance is not necessarily indicative of future results.
More Articles more