SQSAVE INVESTMENT PERFORMANCE STANDS OUT AMONG THE REST
9 July 2022
SqSave beats the competition…
In a 6th July 2022 seedly.sg comparison of digital advisers, SqSave's investment performance (in red box) is overall relatively better than the others. Based on performance returns data compiled by seedly.sg provided by 4 digital advisers, SqSave stood out. Presumably, other digital advisers were approached but did not wish to disclose their investment performance. We can guess why.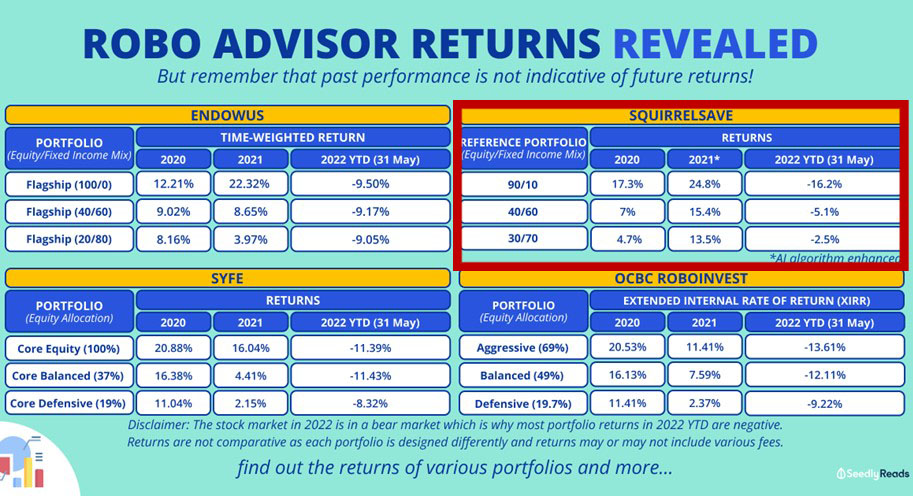 SqSave doing well especially for the lower risk investors…
With heightened market risks , SqSave's machine learning AI system is managing the downside well for investors with lower risk profiles. In the first 5 months of 2022, SqSave has the smallest negative returns for the low to moderate risk portfolios – by a big margin compared to the others.
Risk exposure is the source of investment returns over time…
Obviously, investors who choose higher risk investment settings will continue to be exposed to relatively more risk than those who choose lower risk settings. Potential investment returns vary with risk exposure. Potential returns (and losses) are higher if the investment portfolio risk exposure is set higher. And vice versa.
Peaks and troughs of returns are exacerbated by "bull" or "bear" conditions. Higher risk portfolios tend to generate higher returns during bull markets, but also bigger negative returns during bear markets. Hence, it is not surprising that SqSave highest risk portfolios are showing relatively larger negative returns for Jan-May 2022 after an outstanding performance in 2021. We remain confident that SqSave's algorithms can reduce the (unrealised losses) with time. Please read our blog on "Getting It Right: Realised and Unrealised Gains/Losses".
Comparing Apples to Apples…
It is important to compare investment performance based on similar risks taken. Seedly.sg shows the performance according to the Equity/Fixed Income ratio. The bigger Equity/Fixed Income ratio, the more aggressive or higher risk exposure in the portfolios.
YTD 2022 (31 May) - SqSave Low & Moderate Risk Portfolios lead the pack
A comparison of the lower risk portfolios (Flagship 20/80, SqSave 30/70, Core Defensive) shows SqSave's 30/70 low risk portfolio beating the others with relatively smaller negative returns.
Likewise, SqSave's 40/60 moderate risk portfolio beats the others (Flagship 40/60, Core Balanced, Balanced).
SqSave's machine learning AI did remarkable things for the low and moderate risk portfolios in Jan 2022, which accounts for this outstanding result. We saw positive returns for SqSave's low and moderate risk reference portfolios as outline in our blog, "SqSave AI outperforms: +2.6% to +4% returns in March 2022!"
See our blog dated 3rd March 2022 "Insights Into SqSave AI's Dynamic Asset Allocation" which reviewed the bold asset allocation decisions made by our algorithms as early as Jan 2022!
Investment Performance 2021 – SqSave beats all (Low, Moderate & High Risk Portfolios)
SqSave beat all the others in 2021, even for the high-risk portfolios. See our blog, "SqSave Reference Portfolios Outperform +14% to +25% Returns for whole year 2021!"
Even with some fixed income exposure, SqSave's 90/10 portfolio easily beat the 100% equities portfolios from Endowus and Syfe.
Investment Performance 2020 – SqSave keeps up with the pack in its first full year
SqSave's first full year of investment performance was in 2020. The returns for the high, moderate and low risk porfolios were not the highest, but was well in line with the rest. This being the first year, our machine learning was just beginning to improve.
CONCLUSION - Overall, SqSave stands out!
While we are guarding our client portfolios during this current heightened risk market phase, we are glad that our machine learning AI approach is doing relatively well. We remain confident with time, we will recoup the loss making portfolios while protecting downside.
Yours sincerely
Victor Lye, BBM CFA CFP®
Founder & CEO
SqSave Investment Team
Disclaimer
The contents herein are intended for informational purposes only and do not constitute an offer to sell or the solicitation of any offer to buy or sell any securities to any person in any jurisdiction. No reliance should be placed on the information or opinions herein or accuracy or completeness, for any purpose whatsoever. No representation, warranty or undertaking, express or implied, is given as to the information or opinions herein or accuracy or completeness, and no liability is accepted as to the foregoing. Past performance is not necessarily indicative of future results. All investments carry risk and all investment decisions of an individual remain the responsibility of that individual. All investors are advised to fully understand all risks associated with any kind of investing they choose to do. Hypothetical or simulated performance is not indicative of future results. Unless specifically noted otherwise, all return examples provided in our websites and publications are based on hypothetical or simulated investing. We make no representations or warranties that any investor will, or is likely to, achieve profits similar to those shown, because hypothetical or simulated performance is not necessarily indicative of future results.
More Articles more