SqSave Reference Portfolios Outperform Significantly in 2021

Delivered +14% to +25% Returns for whole year 2021
Jan 8, 2022
Despite a volatile Dec 2021, SqSave delivered double digit returns
December 2021 saw jittery markets as the US Federal Reserve signaled an end to monetary easing. Inflation fears continue. Omicron threatened more infection waves.
Yet SqSave's reference portfolios achieved 14% gains for the low-risk Conservative investment portfolio while at the highest risk end, the Very Aggressive reference investment portfolio achieved as high as +25% for the whole of 2021.
The SqSave reference portfolio returns beat other comparable risk-based portfolios that we track in terms of equity/fixed income benchmarks.
SqSave Full Year 2021 – Investment Performances (SGD terms) *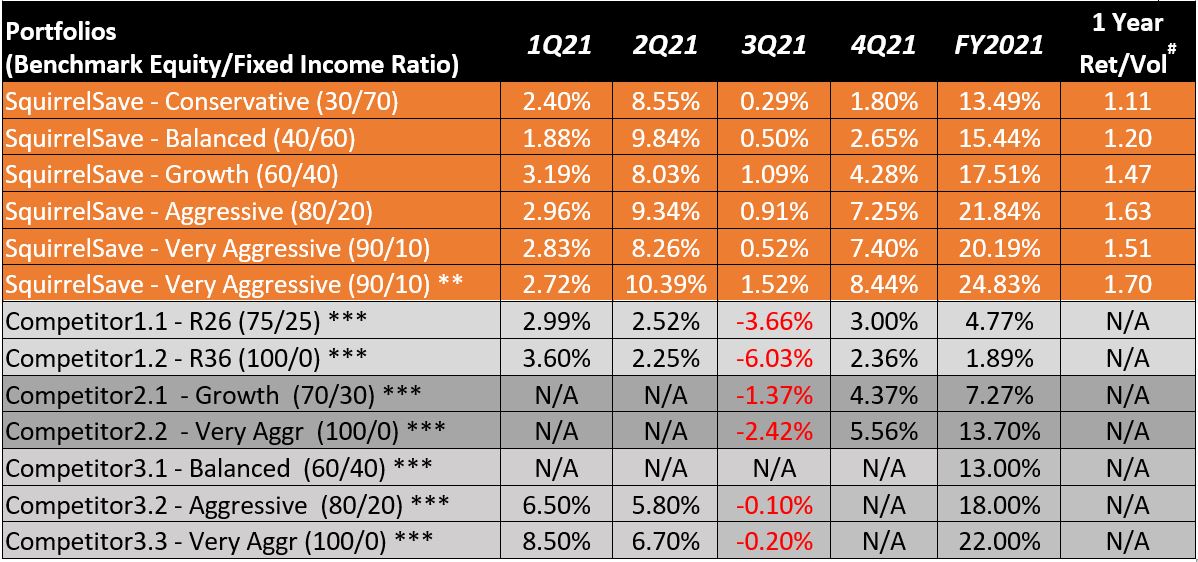 * Inclusive of ETF expense ratios and net of SqSave management fees. SqSave uses AI to design and manage diversified investment portfolios for each investor. Because SqSave is not an investment fund, there is no single return measure. Instead, every SqSave investor has his/her own investment performance as each investor is managed separately by our SqSave AI. As investors can withdraw and top-up any time, investment returns will be affected by individual investor decisions. Hence, SqSave uses reference portfolios which are actual portfolios managed on an ongoing basis, without any interference with withdrawals or top-ups, to measure investment performance.
** Single portfolio investment amount more than SGD15,000
*** Performance numbers for competitors are estimates.
# Ret/Vol refers to the ratio of Investment Returns over Volatility (or Risk)
Decent One-Year Risk Adjusted Returns
In risk-based investing, we use diversification to reduce volatility in line with the risk settings chosen by you. Given your risk settings, SqSave AI targets probabilistic returns after predicting the volatility of various investment possibilities over different time periods. Now, we can see that for 2021, SqSave AI has shown decent Return to Volatility ratios. For example, in the Conservative reference portfolio, the Ret/Vol ratio of 1.11 suggests that for every one unit of risk taken, the return achieved is 1.1X.
At the high-risk end, the Very Aggressive SqSave reference portfolio shows Ret/Vol ratio of 1.7X which means that for every unit of risk taken, SqSave was able to generate 1.7X return.
Overall, we are pleased with the SqSave AI algorithms in 2021. We will continue to monitor the system and help you navigate volatility in the year ahead.
Start your investment journey with SqSave, even with ONE Dollar!
If you can, invest SGD15,000 or more to take full advantage of our AI and data analytics. But our SqSave AI can still offer global portfolios from as low as ONE Dollar. That's less than a cup of coffee! It's time to harness the power of AI at SqSave, designed with our years of professional investment experience.
Sign-up in minutes at www.sqsave.com from wherever you are!
Regards,
SqSave AI Team
Disclaimer
The contents herein are intended for informational purposes only and do not constitute an offer to sell or the solicitation of any offer to buy or sell any securities to any person in any jurisdiction. No reliance should be placed on the information or opinions herein or accuracy or completeness, for any purpose whatsoever. No representation, warranty or undertaking, express or implied, is given as to the information or opinions herein or accuracy or completeness, and no liability is accepted as to the foregoing. Past performance is not necessarily indicative of future results. All investments carry risk and all investment decisions of an individual remain the responsibility of that individual. All investors are advised to fully understand all risks associated with any kind of investing they choose to do. Hypothetical or simulated performance is not indicative of future results. Unless specifically noted otherwise, all return examples provided in our websites and publications are based on hypothetical or simulated investing. We make no representations or warranties that any investor will, or is likely to, achieve profits similar to those shown, because hypothetical or simulated performance is not necessarily indicative of future results.
More Articles more