SQSAVE CONTINUES TO FOCUS ON ASSET ALLOCATION TO MANAGE LONGER TERM RISKS
6 Sep 2022
Outperforming when measured from Jan 2021…
Our algorithms are not focused on short term monthly movements, but we monitor closely. That said, August was a poor month for our algorithms. Even then, we focus on more than one month as our algorithms are not designed to be trading oriented. Our data analytics for investing focus on at least a one-year time horizon.
Based on the 2021 to 2022 YTD period, it is more noteworthy to see how all our reference Conservative, Balanced, Growth, Aggressive & Very Aggressive portfolios beat the competitor performances that we track.
Doing well on a one-year trailing basis…
Our focus is on asset allocation to manage risks. In this respect, our algorithms have done well based on the trailing one-year performance.
For example, our reference Conservative risk portfolio is managing downside well at -4.6%. Data available for the same one-year trailing period 2022 period shows similar low-risk portfolios managed by our competitors at -11.5% and -10%.
When we take the mid-risk reference portfolio, SqSave's Growth portfolio which is generally based on the guidance of 60% equities and 40% fixed income asset allocation shows -9.8% while in near comparison, competitor #1 delivered -10.7%, competitor #2 delivered -12.4% and competitor #3 delivered -8.9%.
In the high-risk category, SqSave is behind on a one-year trailing basis. We are not surprised due to the recent volatility of tech stocks to which our algorithms have decided to keep a sustained exposure. We remain comfortable with the asset allocation.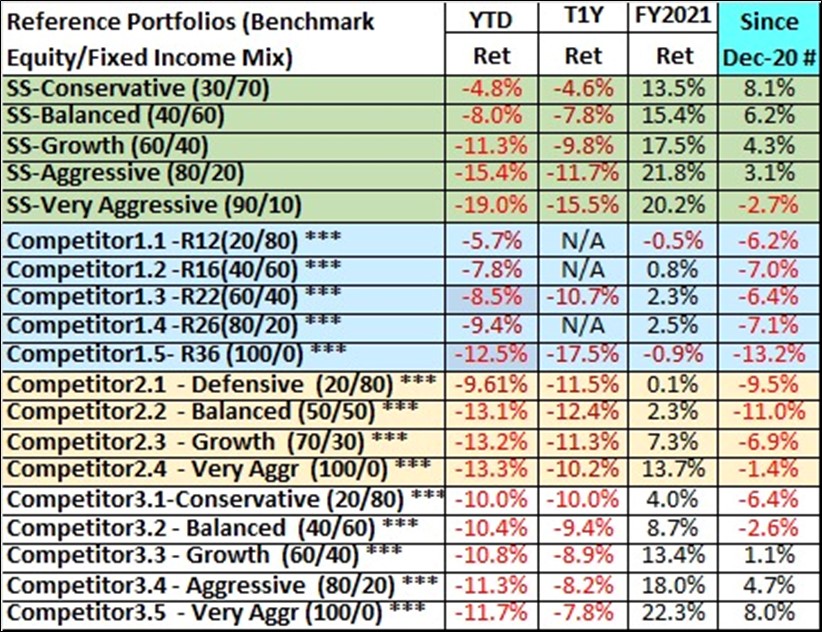 Managing investment risks, not trading for short term gains…
With heightened market risks , SqSave's machine learning AI system is managing the downside well for investors with lower risk profiles.
Higher risk investment portfolios will continue to be exposed to relatively more risk than those who choose lower risk portfolios. Higher risk portfolios tend to generate higher returns during bull markets, but also bigger negative returns during bear markets. Hence, it is not surprising that SqSave highest risk portfolios are showing relatively larger negative returns after an outstanding performance in 2021. SqSave's algorithms can reduce the (unrealised losses) with time. Please read our blog on "Getting It Right: Realised and Unrealised Gains/Losses".
With time invested in the market, our machine learning AI approach will likely reduce the unrealised losses while protecting downside.
Yours sincerely
Victor Lye, BBM CFA CFP®
Founder & CEO
SqSave Investment Team
Disclaimer
The contents herein are intended for informational purposes only and do not constitute an offer to sell or the solicitation of any offer to buy or sell any securities to any person in any jurisdiction. No reliance should be placed on the information or opinions herein or accuracy or completeness, for any purpose whatsoever. No representation, warranty or undertaking, express or implied, is given as to the information or opinions herein or accuracy or completeness, and no liability is accepted as to the foregoing. Past performance is not necessarily indicative of future results. All investments carry risk and all investment decisions of an individual remain the responsibility of that individual. All investors are advised to fully understand all risks associated with any kind of investing they choose to do. Hypothetical or simulated performance is not indicative of future results. Unless specifically noted otherwise, all return examples provided in our websites and publications are based on hypothetical or simulated investing. We make no representations or warranties that any investor will, or is likely to, achieve profits similar to those shown, because hypothetical or simulated performance is not necessarily indicative of future results.
More Articles more