SQSAVE PORTFOLIOS ARE UP +5.7% TO +7.0% IN FIRST QUARTER 2021
Apr 13, 2021
At SqSave, we use data-driven Artificial Intelligence (AI) and Machine Learning (ML) techniques to optimize portfolio returns within projected risk parameters. We integrate our Tactical Asset Allocation (TAA) and Strategic Asset Allocation (SAA) actions seamlessly, by applying state-of-the-art AI/ML augmentation.
As an AI-driven digital fund management company, we constantly review and scrutinise our AI algorithms to seek viable ways to improve our portfolios' performance. By channelling our expertise in financial asset volatility research & experience in the financial industry in general, we recently enhanced our TAA algorithms.
The key game-changer to the latest TAA methodology upgrade centres around our infusion of dynamic asset weighting shifts, applying a "survival of the fittest" approach to optimal return formulations. That means the system automatically updates each asset weighting according to their latest risk-adjusted returns consistent to Markowitz's Modern Portfolio Theory (MPT). Our process is fully automated without any human interference.
These enhancements have generated very encouraging risk adjusted returns over the first three months of 2021! Our actual portfolio performances are consistent with our back-tested (using long-historical data) simulated results. While this is a very short period to draw definitive conclusions, we are confident these recent results will position our SqurirelSave portfolios well in the ensuing months and years ahead.
The table below shows the latest returns thus far in 2021 (8th Apr) as at the time of writing, for the SqSave reference portfolios and one of our bespoke Very Aggressive client portfolios.
SqSave Latest Performance (SGD terms) in 2021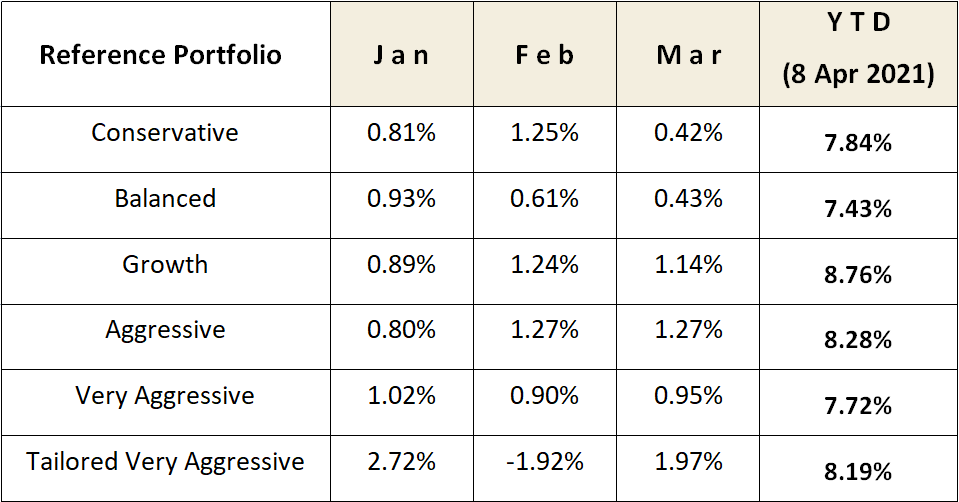 Source: SqSave, Saxo Capital Markets
Figures are all inclusive of ETF expense ratios and net of SqSave management fees.
* This portfolio is tailor-made, for investors contributing a minimum initial SGD15,000 investment capital into a single goal.
Our quantitative team continues to monitor and supervise our machine learning algorithms. As we seek investment solutions to meet your long-term goals, stay tuned for more investment innovations that leverage on the advantages and flexibility of AI and ML.
In the short term, don't be led astray by your emotions or let short-sighted "market noise" dictate your investment decisions. Instead, let SqSave AI help take care of the heavy lifting for you. Our quantitative algorithms constantly monitor market movements to target decent risk-adjusted returns for you on a consistent and long-term basis.
Anyone can participate in our AI global investing approach starting as low as ONE Dollar! Smart investing is possible with SqSave! Sign-up now at www.sqsave.com
SqSave Quantitative AI Team
Victor Lye BBM CFA CFP®, Founder & CEO
p>Yuan Baosheng PhD, Computational Finance Strategist
Disclaimer
The contents herein are intended for informational purposes only and do not constitute an offer to sell or the solicitation of any offer to buy or sell any securities to any person in any jurisdiction. No reliance should be placed on the information or opinions herein or accuracy or completeness, for any purpose whatsoever. No representation, warranty or undertaking, express or implied, is given as to the information or opinions herein or accuracy or completeness, and no liability is accepted as to the foregoing. Past performance is not necessarily indicative of future results. All investments carry risk and all investment decisions of an individual remain the responsibility of that individual. All investors are advised to fully understand all risks associated with any kind of investing they choose to do. Hypothetical or simulated performance is not indicative of future results. Unless specifically noted otherwise, all return examples provided in our websites and publications are based on hypothetical or simulated investing. We make no representations or warranties that any investor will, or is likely to, achieve profits similar to those shown, because hypothetical or simulated performance is not necessarily indicative of future results.
More Articles more