Stay Invested & Reap Better Returns
Jan 20, 2021
Why SqSave…
After years in investments, I realised that there was a limit to my capability. There is only so much information I can process within a given time. Yet, the world of investing was getting more complex. While it offered more opportunities to diversify and seek better returns, managing risk with some precision is not humanly possible. Hence, I created SqSave to use data-driven AI to seek good returns for the risk taken.
Markets will correct and even crash…
I have navigated enough corrections and crashes over the last 30 years. If we get emotional, we are likely to end up buying high and selling low. But if you give enough time for your investments to work, they can ride out the corrections and market crashes. The evidence is in this graph.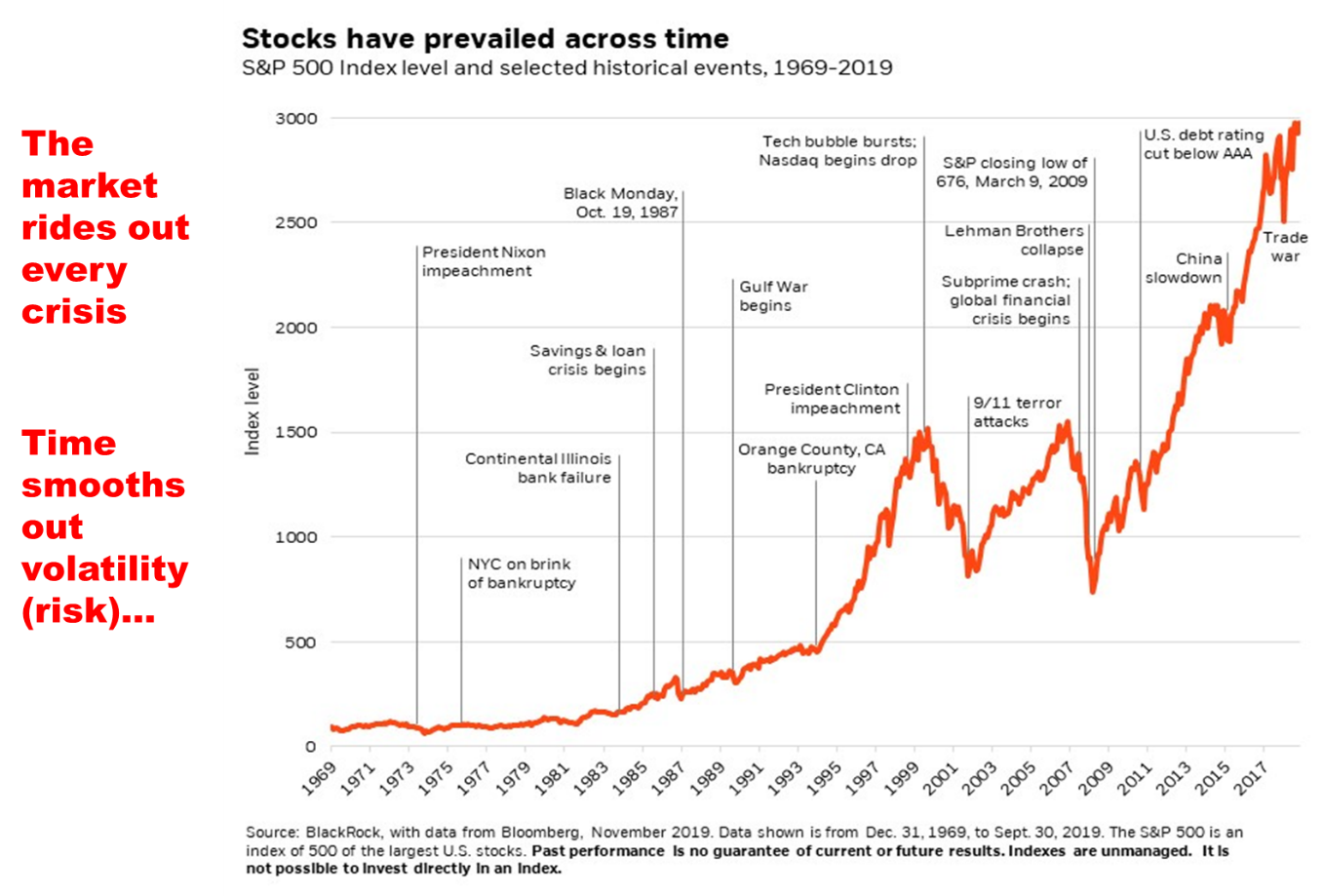 SqSave is Covid-19 Crash-Tested…
Within 6 months of officially launching SqSave, Covid-19 came along and gave SqSave its live crash test in Feb 2020. At that time, I had written that by staying invested, the market will steer us through the Covid-19 market crash, as it has many times before.
SqSave did well during and after the Covid-19 market crash. Read about my SqSave portfolio performance in my blog.
In my blog "Psst! Are you investing, gambling or speculating?", I had shared about the differences between investing and trading. In my blog of June 2019, I emphasised that SqSave is designed to invest – using diversification to manage risks. Now that SqSave has crash tested its AI-driven algorithms and invested globally for more than one year, we show real data to demonstrate the different outcomes from investing and trading.
Review of Some Client Performances
We are always concerned for our clients' investments. One is to select the appropriate level of risk. To help investors, SqSave offers a gamified risk profiler which assess risk-reward behaviour.
Second, clients need to commit to a time horizon. Third, we need to understand risk capacity in relation to the client's age. These are elaborated in our White Paper on Serious Gaming in Risk Profiling.
As part of our annual review, we drilled down into why some SqSave clients did not do so well. We found that the performance was affected because of withdrawals which resulted in missing out on market movements. I am sure clients' had good reasons to withdraw when they did, but our case studies reinforce the need to commit and stay invested to ride out risk (or volatility).
We review the actual performance of clients who withdrew monies from their SqSave accounts and compare with the returns that would be achieved if they had simply held on till 31 Dec 2020.
CLIENT 1
There is no need to stare at your investment value, to gloat or worry. Read my blog about the differences between unrealised losses and gains. They are unrealised until you actually sell (withdraw).
Client 1 started the SqSave portfolio in 2019 but withdrew during the Covid-198 market crash.
As we can see, the withdrawal decision missed out on the market recovery.
In all, the client held the SqSave portfolio for only 8 months. That's a tad short for truly investing, especially during a year which contained a market crash.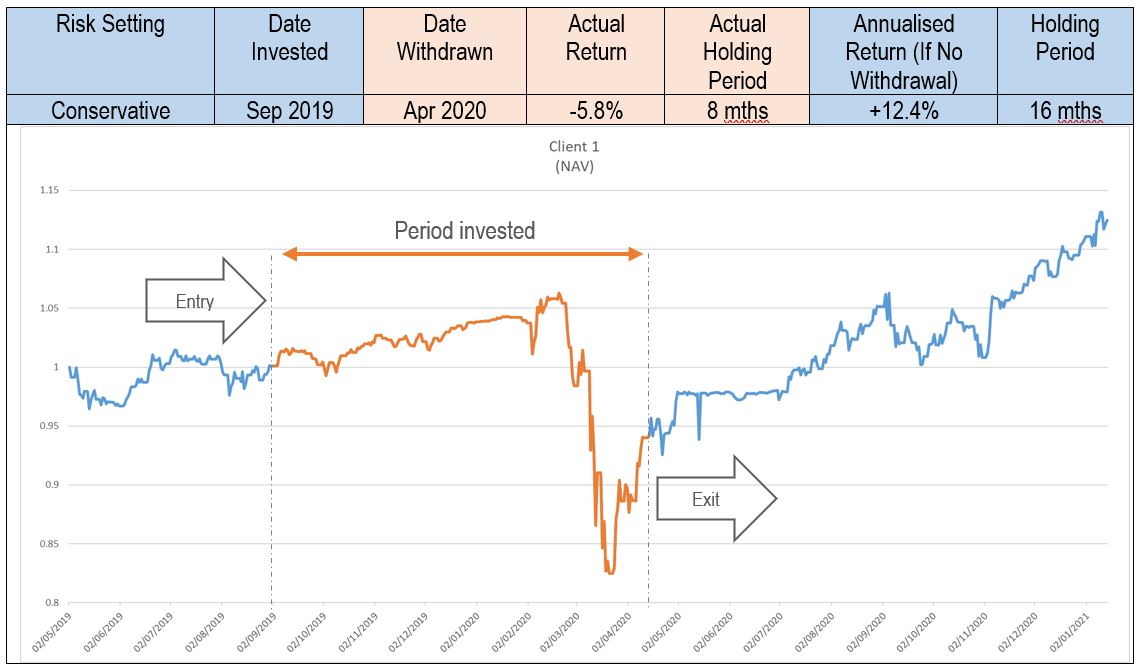 CLIENT 2
Client 2 appeared savvy by starting the SqSave portfolio in Mar 2020, right in the middle of the Covid-19 market crash. But unfortunately, the client may have been frazzled and lost patience, and withdrew barely 5 months later in Jul 2020. If only the client stay invested for another 5 months and reap a decent 14% annualised return by end-2020!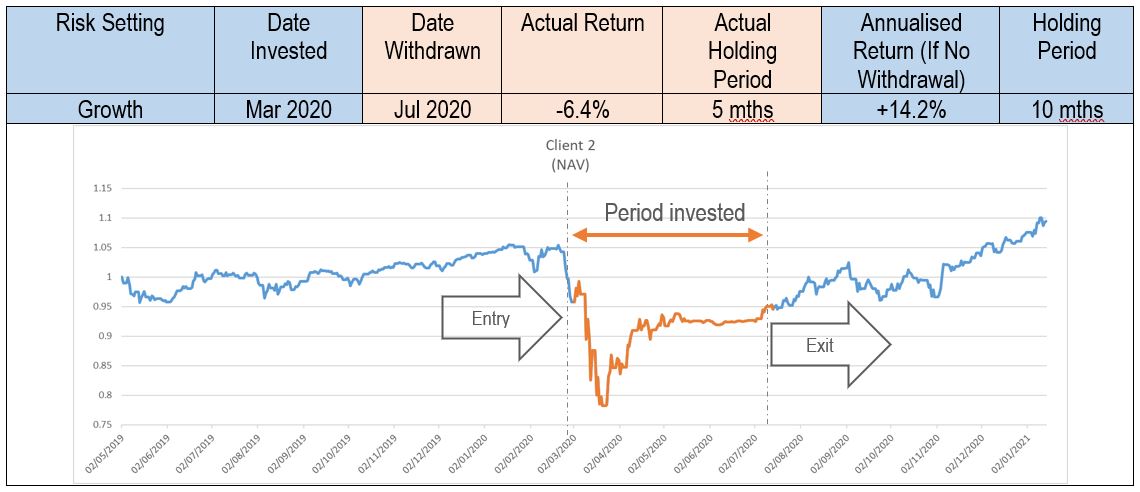 CLIENT 3
Client 3 took on a riskier portfolio (Aggressive) compared to Client 2 (Growth) but held the portfolio for a shorter 4 month period before withdrawing. As a result, the client missed out on a 15.5% annualised return by staying invested.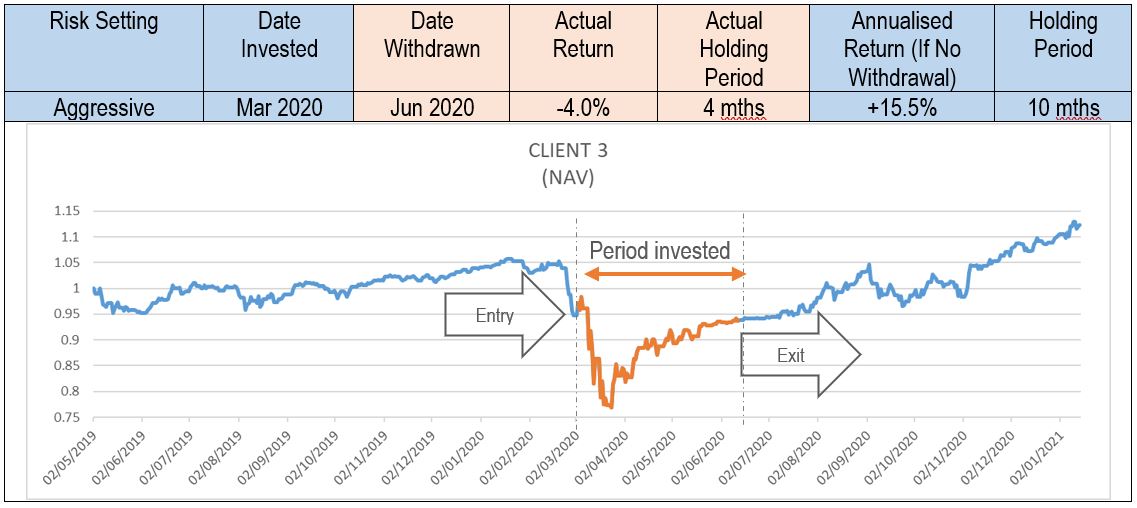 Conclusion
There are other case studies we have done. The conclusion is the same.
Stay invested to reap better returns…
In my 30 Mar 2020 blog during the Covid-19 crash, I asked investors to know themselves, choose the appropriate risk settings and give investments time to ride out volatility.Where the client holds the investment portfolios for a shorter period, there is less time to ride out volatility.
Remember, the source of returns is volatility.
As the saying goes, "no pain, no gain". However, in investing, risk is a two-way street.
Don't believe sales talk that "higher risk, higher returns"…
They only told you half the truth. The other half is "higher risk, higher losses".
SqSave manages both sides of the risk-return challenge…
All investments carry risks. At SqSave, we use data and AI-driven methods to manage that risk through portfolio diversification. SqSave helps you decide the risk you can tolerate, and once you decide, SqSave focuses on finding a portfolio combination with higher probable returns for the risk you set. SqSave knows that for the risk you set, there is potential gain and loss.
Join the world of Smart Investing today at SqSave!
Regards
Victor Lye BBM CFA CFP®
Founder & CEO, SqSave
PIVOT Fintech Pte. Ltd.
Disclaimer
The contents herein are intended for informational purposes only and do not constitute an offer to sell or the solicitation of any offer to buy or sell any securities to any person in any jurisdiction. No reliance should be placed on the information or opinions herein or accuracy or completeness, for any purpose whatsoever. No representation, warranty or undertaking, express or implied, is given as to the information or opinions herein or accuracy or completeness, and no liability is accepted as to the foregoing. Past performance is not necessarily indicative of future results. All investments carry risk and all investment decisions of an individual remain the responsibility of that individual. All investors are advised to fully understand all risks associated with any kind of investing they choose to do. Hypothetical or simulated performance is not indicative of future results. Unless specifically noted otherwise, all return examples provided in our websites and publications are based on hypothetical or simulated investing. We make no representations or warranties that any investor will, or is likely to, achieve profits similar to those shown, because hypothetical or simulated performance is not necessarily indicative of future results.
More Articles more