Time to Take Stock of Investing (no pun intended)
August 14, 2020
Since we launched SqSave in late 2019, we had a decent ride managing market risks using our machine learning AI engine. Despite that, we needed to crash-proof our system. The Covid crash that began Feb 19 was a good live data test. And SqSave passed.
Milestones are just part of the data fabric that SqSave looks at and beyond…
With AI driving data analytics, SqSave takes a long view of markets beyond short cycles and shocks. As of 13 Aug 2020, we observe several milestones:
World economies continue to cope with successive waves of infection in the ongoing pandemic while recording the largest economic contractions in a century
The world's biggest stock market continues to diverge from its economic realities as the S&P500 approaches its previous high watermark of 3386 reached on 19 Feb 2020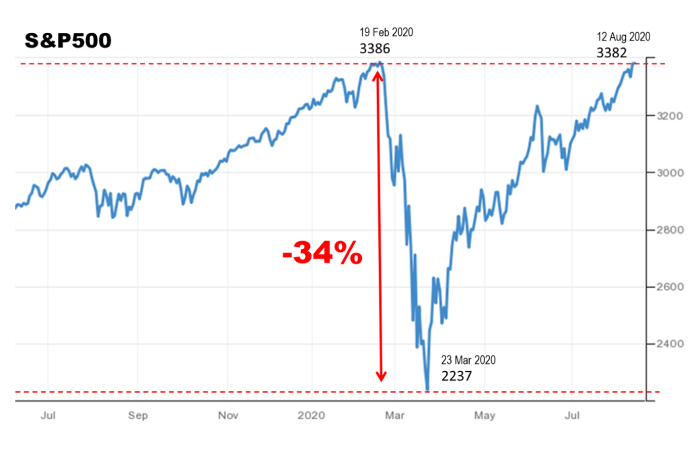 Gold reaches record highs as worries loom over the sustainability of public debt the world over
Apple is fast closing in to be the first company to be worth USD 2 trillion
US-China relations continue to worsen and the noose around China tightens with the fight moving into technology apps such as TikTok and WeChat
Russia offers the first Covid vaccine while the world is sceptical
Depending on your personal interests, there are many more milestones. Here are some:
A slew of Mars missions is in play as space rivalry rises
China completes its Beidou global satellite navigation system to compete against the US GPS
Tesla launches its cyber truck
Our world will continue to grow with advancing technology…
Clearly, technology is fast advancing and dominating our conversations. Truth is – it has always been. From men falling off rooftops to the first manned flight, from horsepower to the internal combustion engine, the first man on the moon, the PC revolution, the hand gesture innovation that powered tablets in 2010 and opened up the smartphone revolution, and so on.
So will investing…
How will investment markets behave? Well, the easy and surest answer is that markets will go up and down. What we know is that markets in the modern era have trended up despite ups and downs, including shocks during which gloom and doom stories dominated.
Technology and innovation will continue to drive our future. And this suggests that growth will continue over one's lifetime. Markets will, therefore, trend up. What we need is a clear time horizon to ride out the cycles and shocks.
SqSave is part of the technology wave that will change the way you invest…
SqSave is part of the technology that will change the way people invest. When people say they invest, they are really trading. It's only human. Even the so-called professionals.
As Founder, I was the first SqSave client. Since my last blog about my SqSave portfolio which began on 1 June 2019 as part of the beta testing before the launch of SqSave, I am glad that it passed the Covid crash test.
My original capital of SGD 15,000 has reached SGD 17,163 as of 12 Aug 2020.
That's a total return of 14% over 14 months or roughly 12 percent annualised – despite the Covid crash! Not bad!
Do take note that at SqSave, you get your own portfolio. Hence, your actual returns will depend on how long you have held your portfolio for. Generally, a time horizon of 1 to 3 years is needed to allow your investments to smooth out short term volatility and shocks.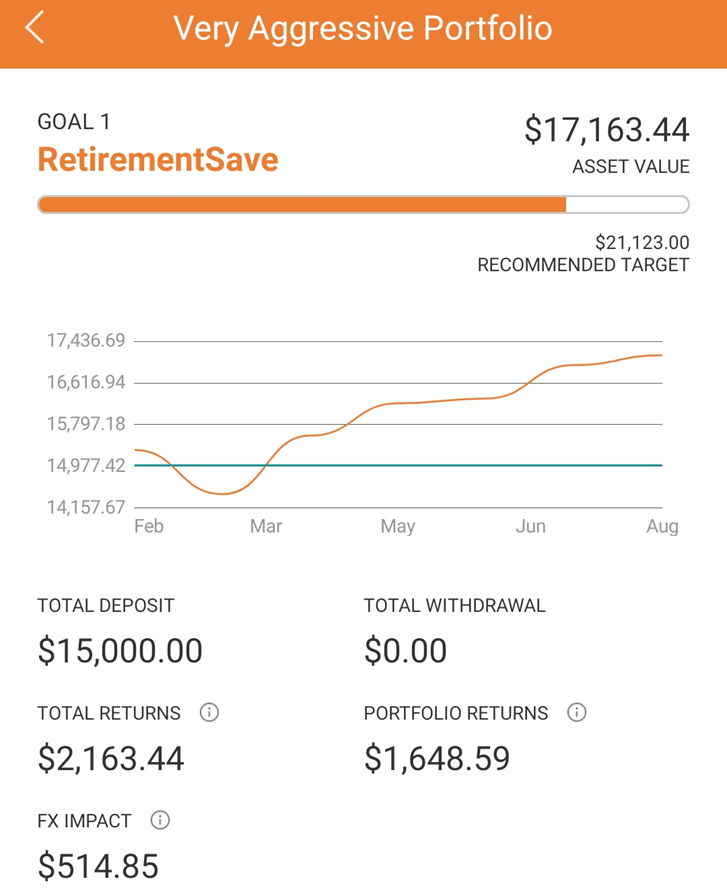 Always a good time to start investing smart…
It is a good time for you to consider taking advantage of our SqSave technology and change the way you claim to invest.
In doing so, I will say again that SqSave does not trade markets. Our purpose is to provide context for existing clients and to encourage prospective clients who are deciding if they should start. Our answer is the same. Just start. The earlier the better.
Looking at investment markets, many are left wondering if they have missed the bus, train, boat or plane!
SqSave is about Smart Investing, Not Trading…
At SqSave, we focus on managing risks first, before chasing returns. At SqSave, we use AI to manage massive data points. We do not trade. We do not time the markets.
…for Anyone, Anywhere, Anytime!
SqSave believes that there is no best time to start investing. The key is to do it early and give yourself a long runway to smooth out the inevitable market volatility cycles. And the best time to start is when you're a baby. Indeed, that's the longest runway you can have. We know that we all want the longest runway innately. That's why we work hard to accumulate wealth, not just for ourselves, but for the next generation. So SqSave created KidSave, an investment account we encourage you to set up for your child. Teach your child the virtue of not just saving, but investing. Show them how a small sum from their pocket money can grow with time if properly invested.
If you invest in unit trusts, you should try SqSave as an alternative to outdated and inefficient unit trust structures. SqSave is low-cost, globally-diversified and aligned with you. If you are new to investing or think you don't have enough money to invest, you have run out of excuses with SqSave.
Smart investing is possible now with SqSave! Sign-up now at www.sqsave.com
Disclaimer
The contents herein are intended for informational purposes only and do not constitute an offer to sell or the solicitation of any offer to buy or sell any securities to any person in any jurisdiction. No reliance should be placed on the information or opinions herein or accuracy or completeness, for any purpose whatsoever. No representation, warranty or undertaking, express or implied, is given as to the information or opinions herein or accuracy or completeness, and no liability is accepted as to the foregoing. Past performance is not necessarily indicative of future results. All investments carry risk and all investment decisions of an individual remain the responsibility of that individual. All investors are advised to fully understand all risks associated with any kind of investing they choose to do. Hypothetical or simulated performance is not indicative of future results. Unless specifically noted otherwise, all return examples provided in our websites and publications are based on hypothetical or simulated investing. We make no representations or warranties that any investor will, or is likely to, achieve profits similar to those shown, because hypothetical or simulated performance is not necessarily indicative of future results.
More Articles more