SqSave Portfolios Continues Their Stellar Performance
6 June 2023
Market outlook
Debt-limit deal clears congress.
The US debt ceiling deal clears congress, ending the threat of a potentially catastrophic US debt default. US President Joe Biden and Republican House Speaker McCarthy agreed to suspend the US debt ceiling for two years (after the US presidential election), in exchange for non-defence government spending to be 'roughly flat' next year.
US regional banking sector risk stabilises
Following several high-profile failures of US regional banks over the past months, financial distress within the sector appears to have faded in May. Western Alliance, one of the hard-hit US regional banks, reported that its deposit balances stabilized by late March, and subsequently grew by more than USD 2 billion since then. While this is not an indication of a full normalisation of the sector given that earnings environment for regional banks will still be impaired, the contagion appears to be contained for now, and there is more focus on fundamentals.
Interest rates and core inflation continues to be a key focus.
In May, the Federal Reserve raised its target rate range by 25bps to 5-5.25% – initially thought to be the final hike – though policymakers hinted that the tightening cycle may not be over. The US economy show signs of cooling and inflation continues to abate: the headline rate edged lower to 4.9% (YoY) in April'23, the smallest 12-month increase since April 2021. However, the job market is still robust - with payrolls still surging, unemployment rate relatively low, and the number of unfilled jobs in the US unexpectedly jumped to more than 10 million, surpassing market expectations. This raises the possibility of a rate hike in June.
While there has been some welcome news in the market lately, overall, we maintain our view on elevated short- to mid-term volatility. We feel that recession in the US is becoming increasingly likely, as the Fed is forced by high and persistent inflation to tighten into an already weakening economy. US-China tensions are still high, despite a joint communiqué by the G7 emphasising 'de-risking' rather than 'de-coupling'. We continue to expect short-term rates would stay elevated given the sustained concerns over inflation.
SqSave's adjusted algorithms achieves solid results
In February, we adjusted our investment algorithm to construct our portfolios from a larger pool of Exchange Traded Funds, as well as incorporate further quantitative optimizations.
On a year-to-date basis, and measured against benchmarks and our peers, all our reference portfolios outperformed with compelling margins, validating the effectiveness of our adjusted algorithm since it was implemented.
Given the backdrop of uncertainty, the SqSave team continues to diligently monitor the markets and our investment algorithm, with the aim of achieving strong and sustained risk-adjusted returns in the mid- and long-term on behalf of our clients.
SqSave Reference Portfolios Returns (SGD terms as at 31 May 2023)*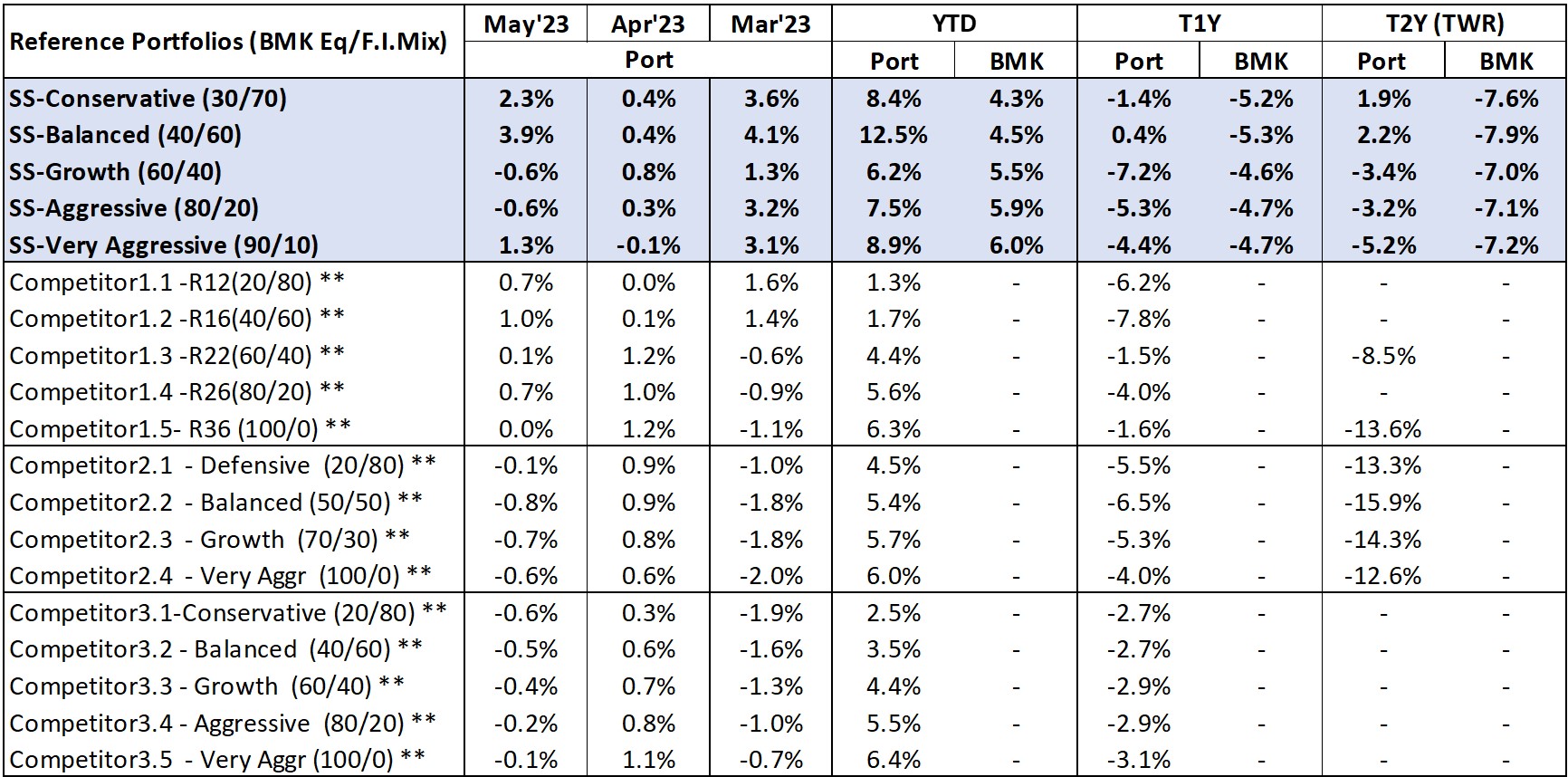 *Inclusive of ETF expense ratios and net of SqSave management fees. SqSave uses AI to design and manage diversified investment portfolios for each investor. Because SqSave is not an investment fund, there is no single return measure. Instead, every SqSave investor has his/her own investment performance as each investor is managed separately by our SqSave AI. As investors can withdraw and top-up any time, investment returns will be affected by individual investor decisions. Hence, SqSave uses reference portfolios which are actual portfolios managed on an ongoing basis, without any interference with withdrawals or top-ups, to measure investment performance. ** Performance numbers for competitors are estimates. Abbreviations: BMK: Benchmark; Ret: Return, TWR: Time Weighted Return.
Notable takeaways from the May performance updates are highlighted below:
In May 2023, SqSave's low- and high-risk reference portfolios outperformed both benchmarks and tracked competitors, while medium-risk portfolios outperformed competitor 2.
On a year-to-date 2023 basis, all our reference portfolios have beaten their benchmarks and competitors with compelling margins, validating the effectiveness of our revised algorithm over the mid-term.
Over the latest trailing 1Y period, our low-to-mid risk portfolios have beaten their respective benchmarks as well as selected comparable competitors' portfolios (based on available data).
Over the longer term, on a trailing 2Y basis, all our reference portfolios outperformed benchmark and competitors.
Yours sincerely
SqSave Investment Team
Disclaimer
The contents herein are intended for informational purposes only and do not constitute an offer to sell or the solicitation of any offer to buy or sell any securities to any person in any jurisdiction. No reliance should be placed on the information or opinions herein or accuracy or completeness, for any purpose whatsoever. No representation, warranty or undertaking, express or implied, is given as to the information or opinions herein or accuracy or completeness, and no liability is accepted as to the foregoing. Past performance is not necessarily indicative of future results. All investments carry risk and all investment decisions of an individual remain the responsibility of that individual. All investors are advised to fully understand all risks associated with any kind of investing they choose to do. Hypothetical or simulated performance is not indicative of future results. Unless specifically noted otherwise, all return examples provided in our websites and publications are based on hypothetical or simulated investing. We make no representations or warranties that any investor will, or is likely to, achieve profits similar to those shown, because hypothetical or simulated performance is not necessarily indicative of future results.
More Articles more