SQSAVE PORTFOLIOS DELIVERS RESPECTABLE PERFORMANCE AGAINST COMPETITORS IN 2023
4 August 2023
On a Year-to-Date basis (till end July 2023), all our SqSave reference portfolios outperformed key competitors. For the month of July, our defensive portfolios continued to beat benchmarks and most of our competitors.
While we monitor closely short-term performance as feedback for continuous improvement where necessary, our algorithms are designed to be long-term focused.
SqSave Reference Portfolios Returns Summary (SGD terms as at 31 July 2023)*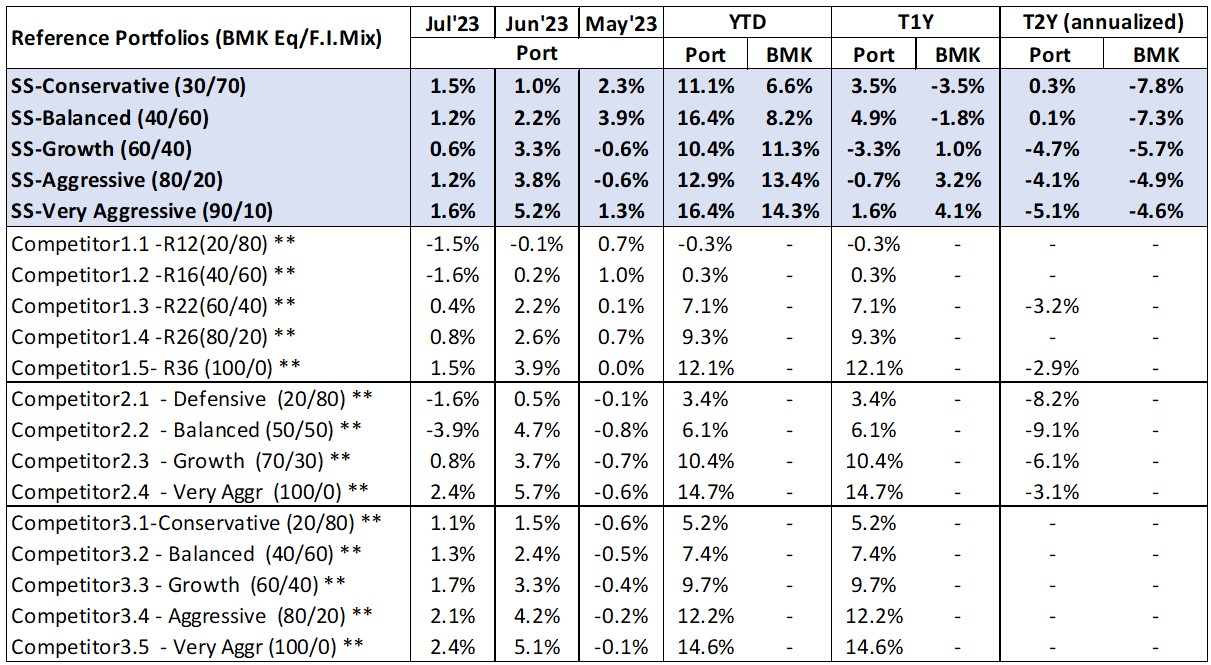 *Inclusive of ETF expense ratios and net of SqSave management fees. SqSave uses AI to design and manage diversified investment portfolios for each investor. Because SqSave is not an investment fund, there is no single return measure. Instead, every SqSave investor has his/her own investment performance as each investor is managed separately by our SqSave AI. As investors can withdraw and top-up any time, investment returns will be affected by individual investor decisions. Hence, SqSave uses reference portfolios which are actual portfolios managed on an ongoing basis, without any interference with withdrawals or top-ups, to measure investment performance. ** Performance numbers for competitors are estimates. Abbreviations: BMK: Benchmark; Ret: Return, T2Y: Annualized Time Weighted Return
Key Takeaways:
7 months to 31 July 2023 (YTD): All our reference portfolios continue to outperform our competitors and most of the benchmarks.
Trailing One Year (T1Y): Our low-risk portfolios outperformed benchmarks and competitors. The algorithm worked as designed and successfully protected lower risk portfolios from downsides.
Trailer Two Year (T2Y): Based on available data, the majority of SqSave reference portfolios outperformed benchmarks.
Market Insights:
The financial markets have experienced an uptick in optimism this past month. This positive sentiment has been fuelled by moderating inflation pressures and resilient economic growth, bolstering investor confidence. The US Federal Reserve is widely believed to be nearing the end of its rate hiking cycle, raising hopes that inflation can be tamed without leading to any form of technical recession; whether deep or mild. In the debt markets, the premium for risky corporate borrowers has been narrowing, further reflecting optimism about a soft landing for the economy. Additionally, encouraging economic growth data from Europe and a significant rebound in Chinese stocks have added to the positive outlook.
Amidst the prevailing optimism, a note of caution is warranted. Despite the US market's leadership in impressive performance, it is important to acknowledge its lack of depth, with a handful of tech stocks driving the market's performance. Volatility is at near-record lows, a trend that calls for careful observation (from a contrarian perspective). While there are signs of a US economic soft landing, we remain cognizant of potential challenges ahead. The rise in company defaults in the US due to higher borrowing costs and stringent lending standards raises concerns about the true state of the economy. Additionally, the deepening yield curve inversion reaching 40+ year negative levels (as reflected in the below chart), may be an early signal of economic storm clouds emerging, though its effects may take added time to materialize fully.

Source: Federal Reserve Bank of St. Louis
Staying informed and cautious will be key in navigating this dynamic financial landscape. We are confident that our SqSave investment portfolios and AI-driven algorithm remain well-positioned overall to weather changing market conditions as they arise.
Yours sincerely
SqSave Investment Team
Disclaimer
The contents herein are intended for informational purposes only and do not constitute an offer to sell or the solicitation of any offer to buy or sell any securities to any person in any jurisdiction. No reliance should be placed on the information or opinions herein or accuracy or completeness, for any purpose whatsoever. No representation, warranty or undertaking, express or implied, is given as to the information or opinions herein or accuracy or completeness, and no liability is accepted as to the foregoing. Past performance is not necessarily indicative of future results. All investments carry risk and all investment decisions of an individual remain the responsibility of that individual. All investors are advised to fully understand all risks associated with any kind of investing they choose to do. Hypothetical or simulated performance is not indicative of future results. Unless specifically noted otherwise, all return examples provided in our websites and publications are based on hypothetical or simulated investing. We make no representations or warranties that any investor will, or is likely to, achieve profits similar to those shown, because hypothetical or simulated performance is not necessarily indicative of future results.
More Articles more