SQSAVE PORTFOLIOS GROWS +9% to +15% (JAN to JUNE 2023)!
3 July 2023
All SqSave reference portfolios delivered outstanding results in the first 6 months of 2023.
Every SqSave risk-based portfolio beat its respective benchmark and outperformed the competitors.

SqSave Reference Portfolios Returns Summary (SGD terms as at 30 June 2023)*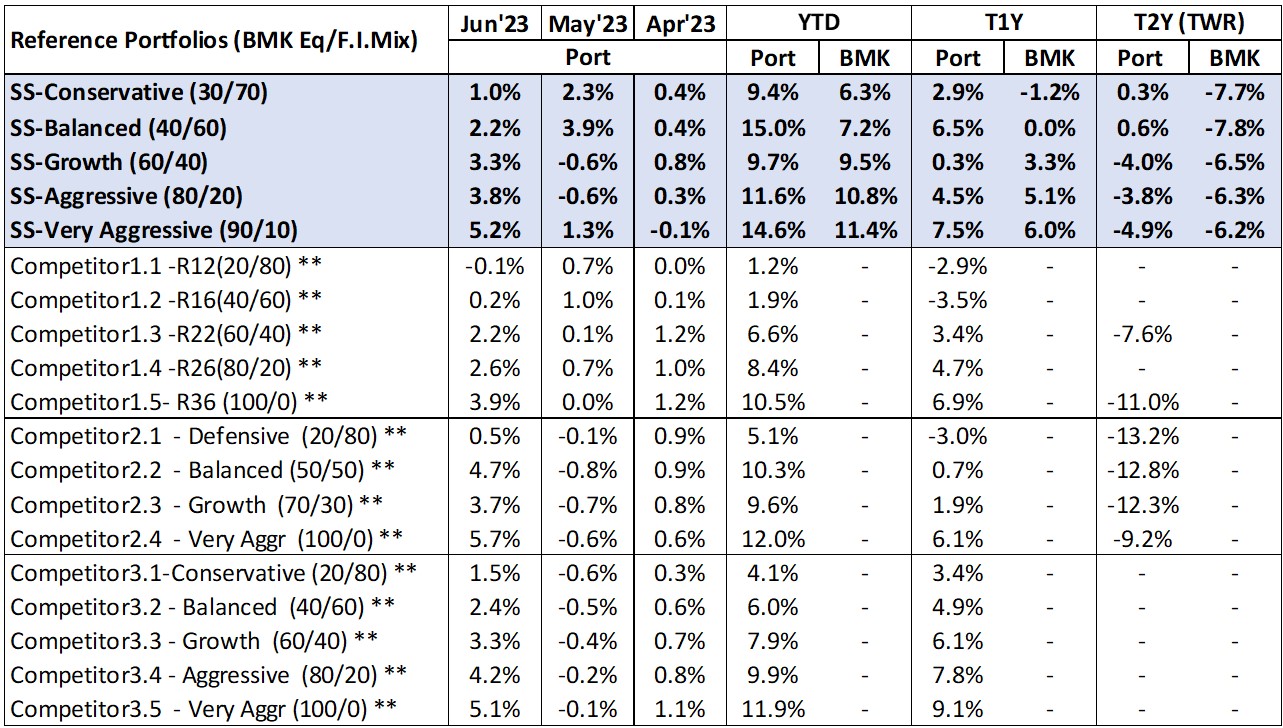 *Inclusive of ETF expense ratios and net of SqSave management fees. SqSave uses AI to design and manage diversified investment portfolios for each investor. Because SqSave is not an investment fund, there is no single return measure. Instead, every SqSave investor has his/her own investment performance as each investor is managed separately by our SqSave AI. As investors can withdraw and top-up any time, investment returns will be affected by individual investor decisions. Hence, SqSave uses reference portfolios which are actual portfolios managed on an ongoing basis, without any interference with withdrawals or top-ups, to measure investment performance. ** Performance numbers for competitors are estimates. Abbreviations: BMK: Benchmark; Ret: Return, TWR: Time Weighted Return
Key Points
6 months to 30 June 2023: All our reference portfolios have outperformed their benchmarks and competitors.
Trailing One Year (T1Y): Our low-to-mid risk portfolios outperformed their benchmarks as well as selected comparable competitors' portfolios. With the bear market in 2022, SqSave algorithms worked as we designed to minimize the inevitable drawdowns to protect the lower risk portfolios.
Trailing Two Year (T2Y): All SqSave reference portfolios consistently outperformed benchmarks and competitors based on available data.
Market Insights
The US Federal Reserve Bank (Fed) kept its benchmark interest rate unchanged in mid-June, offering some market relief. However, the Fed may still raise rates this year.
US headline inflation is showing signs of moderation, with May 2023 data revealing the smallest change in over two years. Though core inflation has remained stable, the strong US labour market keeps the inflation hawks alive. We will need to watch for any down trend in the coming months.
Several indicators, such as the inverted yield curve (i.e. lower yields to maturity on longer-term vs. shorter term US Treasury Bonds), lower oil prices, stricter bank lending, and weak manufacturing, suggest a possible US recession in the medium term. Nonetheless, we anticipate the Fed is nearing the end of its aggressive rate hike campaign.
While the US market performed well in June 2023, we remain cautious due to a potential gap in risk perception between the strong equity performance (with higher valuations) and the potential for still-high interest rates and possibly slowing economy.
Conclusion
Consider transferring your current unit trust or portfolios held elsewhere to SqSave. Experience the discipline and consistency of AI-driven investing.
SqSave employs a medium- to long-term investment approach, continuously monitoring portfolio performance, algorithm effectiveness, and market conditions. Our goal is to provide clients with exceptional and sustainable risk-adjusted returns, as we strive for excellence in all aspects of our service.
Yours sincerely
SqSave Investment Team
Disclaimer
The contents herein are intended for informational purposes only and do not constitute an offer to sell or the solicitation of any offer to buy or sell any securities to any person in any jurisdiction. No reliance should be placed on the information or opinions herein or accuracy or completeness, for any purpose whatsoever. No representation, warranty or undertaking, express or implied, is given as to the information or opinions herein or accuracy or completeness, and no liability is accepted as to the foregoing. Past performance is not necessarily indicative of future results. All investments carry risk and all investment decisions of an individual remain the responsibility of that individual. All investors are advised to fully understand all risks associated with any kind of investing they choose to do. Hypothetical or simulated performance is not indicative of future results. Unless specifically noted otherwise, all return examples provided in our websites and publications are based on hypothetical or simulated investing. We make no representations or warranties that any investor will, or is likely to, achieve profits similar to those shown, because hypothetical or simulated performance is not necessarily indicative of future results.
More Articles more