COMPARE AI-DRIVEN vs HUMAN-DRIVEN INVESTMENT DECISIONS
Emotions get in the way & more often than not, results in "Buy HIGH, sell LOW"!
Mar 28, 2022
Recap of AI-driven investment decisions…
The recent market correction since Dec 2021 into Jan/Feb 2022 revealed how our investment AI system managed downside risks across our lowest risk to highest risk portfolios.
In Feb 2022, we looked back at decisions made by our investment AI machine. Read our blog here. Our AI algorithms had made bold decisions to cut Fixed Income exposure and switched heavily into (i) Global Commodities; and (ii) Gold.


The biggest switches were observed for the lower risk portfolios from as low as 3% to over 45% exposure in Gold. Read our blog here which tracked machine learning AI asset allocation changes in Jan 2022 and then in Feb 2022.
As it turned out, both Gold & Global Commodities rose significantly due to the Russian invasion of Ukraine on 24 Feb 2022. How did the AI know?
Our 100% AI-driven algorithms outperformed human-driven competitors…
Our AI algorithms helped the lowest risk Conservative portfolio achieve a positive +3.65% return in the month of Feb 2022 alone! Read our blog here on how we beat the competitors, particularly at the lower risk end.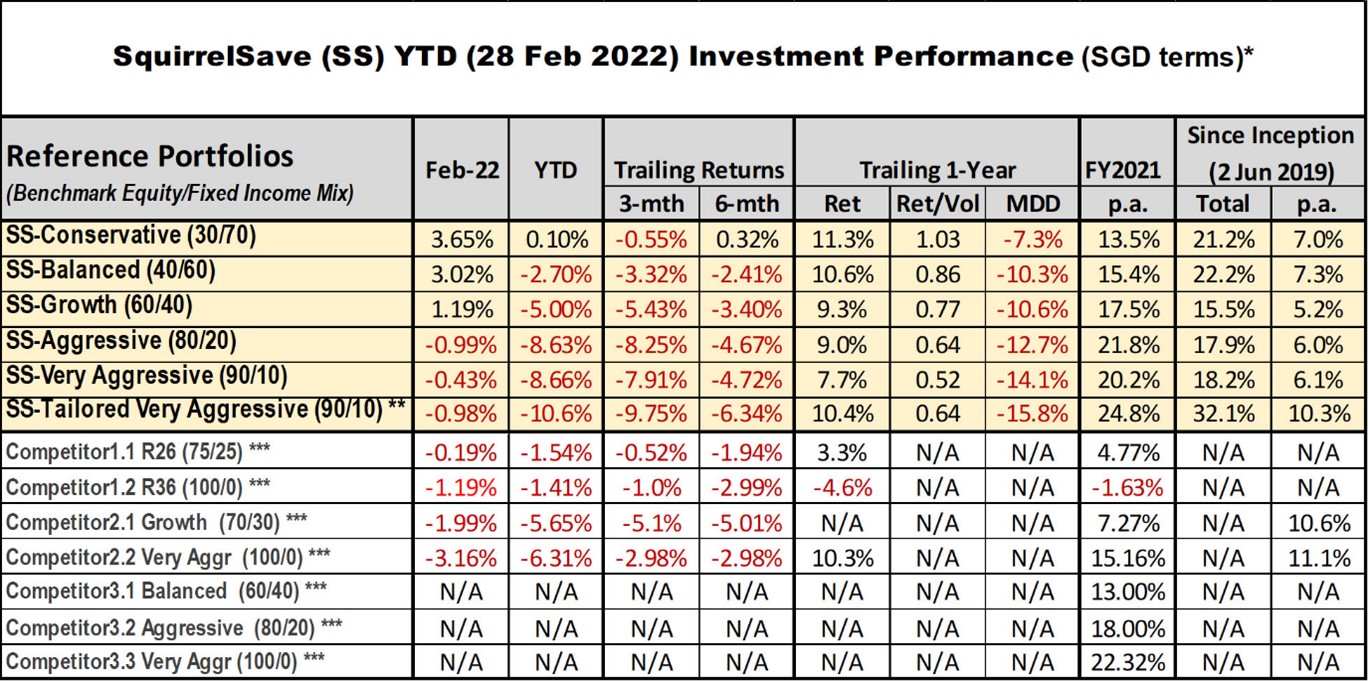 * Inclusive of ETF expense ratios and net of SqSave management fees. SqSave uses AI to design and manage diversified investment portfolios for each investor. Because SqSave is not an investment fund, there is no single return measure. Instead, every SqSave investor has his/her own investment performance as each investor is managed separately by our SqSave AI. As investors can withdraw and top-up any time, investment returns will be affected by individual investor decisions. Hence, SqSave uses reference portfolios which are actual portfolios managed on an ongoing basis, without any interference with withdrawals or top-ups, to measure investment performance.
** Single portfolio investment amount more than SGD15,000
*** Performance numbers for competitors are estimates.
Abbreviations: Ret: Return; Vol: Volatility; MDD: Maximum Drawdown
Our higher risk portfolios have managed the downside well too, but given the heightened market volatility, they did not perform as well in the short term. Nonetheless, our latest observations suggest that the higher risk portfolios will do well in the months ahead.
Our 100% AI-driven investment decision versus a human-driven competitor…
Our AI system decided to increase tech sector exposure by increasing the investment in the Nasdaq focused QQQ ETF +20% on 28 Jan 2022 for the Very Aggressive portfolio. This decision was timely as QQQ staged a rebound of +10% between 15 March 2022 and 29 March 2022. This boosted the performance of our higher risk portfolios. We will disclose the March month-end results soon.
What the Human-driven competitor did…
A well-known human-driven competitor had underperformed badly in 2021 because of a very fixated bet on China tech. Each time China tech went lower, we saw the competitor double down, buying even more. But China tech kept going down. And investment performance worsened.
Finally, we observed that this competitor capitulated on 14 March 2022, and cut China tech exposure from 20% to 0%.
As we can see in hindsight, this competitor sold out at the very low. China tech started to recover right after the decision to sell everything on 14 March 2022! A classic case of "Buy HIGH, Sell LOW". Ouch!

Avoid human emotions & stay invested…
Emotions and investing are a bad mix. We do not like to say, "I was wrong". This results in "Buy HIGH, Sell LOW" decisions. As we can see in real life, after much pain and denial, the competitor seemingly capitulated and cut China tech exposure to zero - only to see it recover thereafter. Ouch!
We trust this blog offers another interesting insight into investment decision making.
Regards
Your SqSave Quantitative AI Team
Disclaimer
The contents herein are intended for informational purposes only and do not constitute an offer to sell or the solicitation of any offer to buy or sell any securities to any person in any jurisdiction. No reliance should be placed on the information or opinions herein or accuracy or completeness, for any purpose whatsoever. No representation, warranty or undertaking, express or implied, is given as to the information or opinions herein or accuracy or completeness, and no liability is accepted as to the foregoing. Past performance is not necessarily indicative of future results. All investments carry risk and all investment decisions of an individual remain the responsibility of that individual. All investors are advised to fully understand all risks associated with any kind of investing they choose to do. Hypothetical or simulated performance is not indicative of future results. Unless specifically noted otherwise, all return examples provided in our websites and publications are based on hypothetical or simulated investing. We make no representations or warranties that any investor will, or is likely to, achieve profits similar to those shown, because hypothetical or simulated performance is not necessarily indicative of future results.
More Articles more