SqSave Conservative Portfolio up +3.65% for the month of Feb & 0.10% YTD
Mar 11, 2022
Dynamic Asset Allocation Adjustments in Jan 2022 showing results…
In our 12 Feb 2022 blog, "SqSave AI seems to know something's happening", we shared our quant AI team's observation of SqSave AI switching boldly out of Fixed Income instruments into Gold and Commodities – particularly for the lower risk Conservative & Balanced reference portfolios.
In our 3 Mar 2022 blog, "Insights Into SqSave AI's Dynamic Asset Allocation", we were able to look back at why SqSave did what it did in early Feb. The insights we got pleased us and reinforced our confidence that our AI algorithms are doing their job well. No human emotions. Just perfect memory of squeezing out returns while mitigating downside volatility.
SqSave generated positive returns for lower-risk portfolios in Feb 2022…
Now, we share the results of SqSave's AI in Feb 2022.
SqSave's lower risk Conservative, Balanced & Growth portfolios did very well to achieve positive returns in Feb 2022 at +3.65%, 3.02% & 1.19% respectively.
SqSave's higher risk Aggressive & Very Aggressive portfolios were marginally negative in Feb 2022 at -0.99% and -0,43% respectively.
Overall, SqSave's Aggressive & Very Aggressive reference portfolios managed mostly to beat the competitors on a relative basis in Feb 2022.
SqSave AI has demonstrated its ability to anticipate & manage the downside…
The solid results for SqSave's lower risk Conservative & Balanced portfolios can be traced back to the bold Jan 2022 switch from Fixed Income to Gold and Commodities.
The switch from Fixed Income to Gold and Commodities was smaller for the Growth, Aggressive & Very Aggressive portfolios. These asset allocation moves by SqSave AI helped to reduce the negative impact across all portfolios.
We now have to be patient and allow SqSave's AI system to continue squeezing out potential returns for the higher risk reference portfolios in the next few months.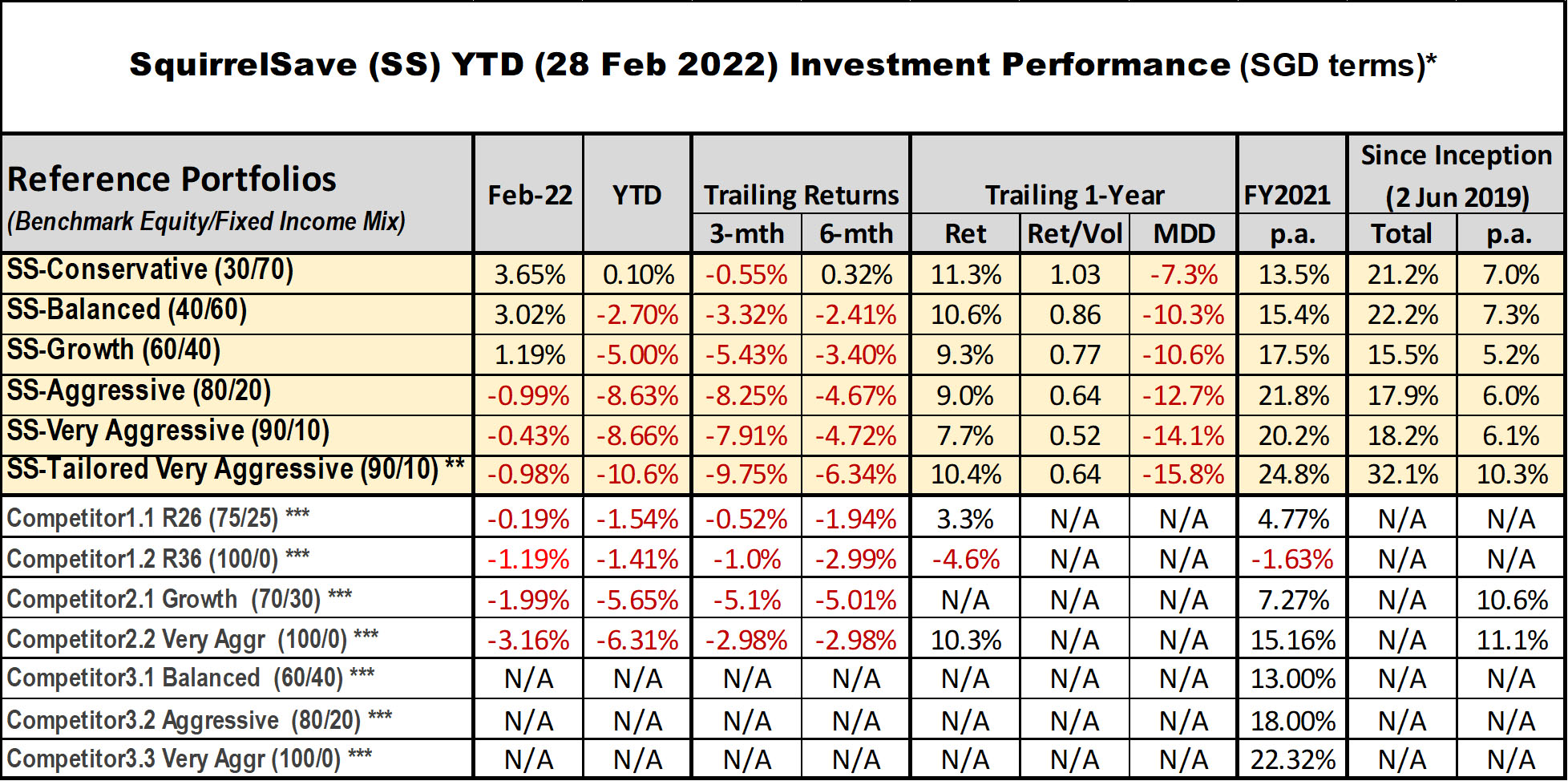 * Inclusive of ETF expense ratios and net of SqSave management fees. SqSave uses AI to design and manage diversified investment portfolios for each investor. Because SqSave is not an investment fund, there is no single return measure. Instead, every SqSave investor has his/her own investment performance as each investor is managed separately by our SqSave AI. As investors can withdraw and top-up any time, investment returns will be affected by individual investor decisions. Hence, SqSave uses reference portfolios which are actual portfolios managed on an ongoing basis, without any interference with withdrawals or top-ups, to measure investment performance.
** Single portfolio investment amount more than SGD15,000
*** Performance numbers for competitors are estimates.
Abbreviations: BMK: Benchmark; EQ: Equity; FU: Fixed Income; Ret: Return; Vol: Volatility; MDD: Maximum Drawdown
High Risks, High Returns (and Losses)…
As we must know, higher risk portfolios try to seek higher returns. But higher volatility also means higher losses – than portfolios set into lower volatilities. SqSave AI – being quantitatively driven, clearly shows here that while the most aggressive portfolios did really well in 2021, they also exhibit higher swings (into losses) when markets become very volatile.
Know the difference between Unrealised & Realised Gains/Losses…
The other very important lesson is to understand the difference between "realised" and "unrealised" gains/losses. Do read our blog dated 7 Apr 2020 "Getting it Right: Realised and Unrealised Gains/Losses". The key takeaway is that the numbers we present showing losses are just unrealised losses. They can swing back to gains. But if you sell now, you will realise the losses. In investing, you must commit to a time horizon and select the risk exposure you can stomach.
Key investment strategy is "Time IN the Market"…
The lesson is that by staying invested, we believe that the higher risk portfolios will swing back into the positive. What it needs is time "IN the market", not "timing the market".
SqSave is designed as an investment AI, and not a short-term market trading algorithm. We advise clients to stay invested and let our SqSave AI system ride out the current market volatility.
As we had shared in our 24 Feb 2022 blog, "What the Russia-Ukraine Crisis Means For Savvy Investors", the Russian invasion of Ukraine is a chance to define yourself as a shrewd investor. Read our blog dated 30 Mar 2020 "Covid-19: A Chance to Define Your Investment Behaviour".
Rest assured our quantitative investment team is closely monitoring your portfolios to manage the drawdowns and position for upside once the market stabilizes.
Regards,
SqSave AI Team
Disclaimer
The contents herein are intended for informational purposes only and do not constitute an offer to sell or the solicitation of any offer to buy or sell any securities to any person in any jurisdiction. No reliance should be placed on the information or opinions herein or accuracy or completeness, for any purpose whatsoever. No representation, warranty or undertaking, express or implied, is given as to the information or opinions herein or accuracy or completeness, and no liability is accepted as to the foregoing. Past performance is not necessarily indicative of future results. All investments carry risk and all investment decisions of an individual remain the responsibility of that individual. All investors are advised to fully understand all risks associated with any kind of investing they choose to do. Hypothetical or simulated performance is not indicative of future results. Unless specifically noted otherwise, all return examples provided in our websites and publications are based on hypothetical or simulated investing. We make no representations or warranties that any investor will, or is likely to, achieve profits similar to those shown, because hypothetical or simulated performance is not necessarily indicative of future results.
More Articles more