SqSave AI outperforms: +2.6% to +4% returns in March 2022!
Beating our benchmarks & outperforming others
6 April 2022
Bold Jan 2022 AI Switches into Gold/Commodities Deliver Positive Returns
Our 12 Feb 2022 blog, "SqSave AI seems to know something's happening" highlighted how our SqSave AI in Jan 2022 boldly sold out of Fixed Income investments and invested heavily in Gold/Commodities for the lower risk Conservative & Balanced reference portfolios.
Feb 2022 investment performance results?
Positive returns of 1.2% to 3.65% for SqSave's lower risk portfolios even when markets were generally falling.
SqSave's higher risk Aggressive & Very Aggressive reference portfolios beat the competitors.
For details, read our 3 Mar 2022 blog, "Insights Into SqSave AI's Dynamic Asset Allocation".
Mar 2022 investment performance continues to improve…
SqSave achieved positive returns of 2.6% to 4% across all risk classes from Conservative to Very Aggressive in the month of March 2022.
Table 1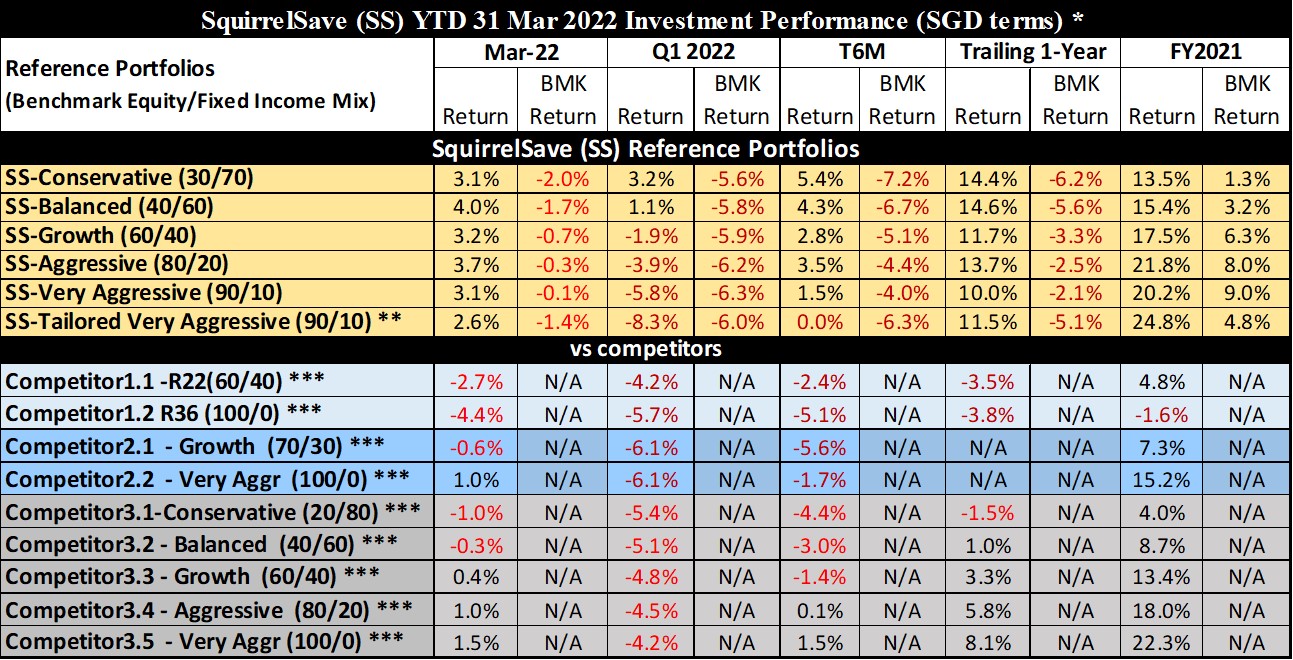 * Inclusive of ETF expense ratios and net of SqSave management fees. SqSave uses AI to design and manage diversified investment portfolios for each investor. Because SqSave is not an investment fund, there is no single return measure. Instead, every SqSave investor has his/her own investment performance as each investor is managed separately by our SqSave AI. As investors can withdraw and top-up any time, investment returns will be affected by individual investor decisions. Hence, SqSave uses reference portfolios which are actual portfolios managed on an ongoing basis, without any interference with withdrawals or top-ups, to measure investment performance.
** Single portfolio investment amount more than SGD15,000
*** Performance numbers for competitors are estimates. Abbreviations: BMK: Benchmark; EQ: Equity; FI: Fixed Income; Ret: Return; Vol: Volatility; MDD: Maximum Drawdown
Beating the Benchmarks!
Table 1 clearly shows that every SqSave reference portfolio beat its benchmark across all periods we track!
Single month of March 2022
First quarter of 2022
Trailing 6-months
Trailing one-year
Calendar 2021
Beating the Competitors!
Our Feb & Mar 2022 outperformance stems from SqSave AI's dynamic asset allocation in response to heightened market volatility. Table 1 shows ALL SqSave reference portfolios beating relevant competitor portfolios – across all periods.
Single month of March 2022
First quarter of 2022
Trailing 6-months
Trailing one-year
Calendar 2021
Benefit from SqSave's unique AI investing system – backed by actual investment performance!
With this latest SqSave investment outperformance, we highlight the following investment lessons:
Avoid emotions when investing – to avoid buying high & selling low.
Select a suitable risk profile – so that you can ride market volatility comfortably.
Avoid "timing the markets" & choose "time in the markets" by committing to an investment time horizon (of at least one year).
Our proprietary investment system is not a short-term market trading algorithm. We use AI to track your individual risk setting and design your personal portfolio based on the latest market conditions, with dynamic rebalancing based on how long you have stayed invested versus your chosen time horizon, your age and your risk-reward behaviour.
Recent market volatility, the Ukraine War, and the Feb 2020 Covid market crash – demonstrated how our proprietary AI investment system could intelligently outperform other digital and traditional investment managers.
The numbers in Table 1 says it better than wall splashed ads and TV ads. Welcome to SqSave - Smart Investing for Anyone, Anywhere, Anytime!
Regards,

Victor Lye BBM CFA CFP®
Founder & CEO / Chief Investment Officer
SqSave Quantitative AI Team
Disclaimer
The contents herein are intended for informational purposes only and do not constitute an offer to sell or the solicitation of any offer to buy or sell any securities to any person in any jurisdiction. No reliance should be placed on the information or opinions herein or accuracy or completeness, for any purpose whatsoever. No representation, warranty or undertaking, express or implied, is given as to the information or opinions herein or accuracy or completeness, and no liability is accepted as to the foregoing. Past performance is not necessarily indicative of future results. All investments carry risk and all investment decisions of an individual remain the responsibility of that individual. All investors are advised to fully understand all risks associated with any kind of investing they choose to do. Hypothetical or simulated performance is not indicative of future results. Unless specifically noted otherwise, all return examples provided in our websites and publications are based on hypothetical or simulated investing. We make no representations or warranties that any investor will, or is likely to, achieve profits similar to those shown, because hypothetical or simulated performance is not necessarily indicative of future results.
More Articles more