MY SQSAVE PORTFOLIO: +27% in 22 months (+14% per annum)
Apr 2, 2021
As at end-Mar 2021, my SqSave portfolio is up +27% since June 2019 (or 14% p.a)…
Here, you can see that my portfolio which started in June 2019 with just SGD 15,000 is now worth almost SGD 19,000. That's an annualised return of 13.7 per cent!
SqSave is crash-tested…
Time flies! As I had shared in my March 2021 blog marking one year from the declaration of the global Covid-19 pandemic, we are on a clear path to recovery. Nonetheless, it will not be smooth as new waves of infections are expected with varying degrees of compliance and the extent of vaccination, while on the lookout for new mutations.
In my Feb 2020 blog as alarms were raised over the rapid spread of the Covid-19 virus, I noted that SqSave's AI was managing the portfolios well.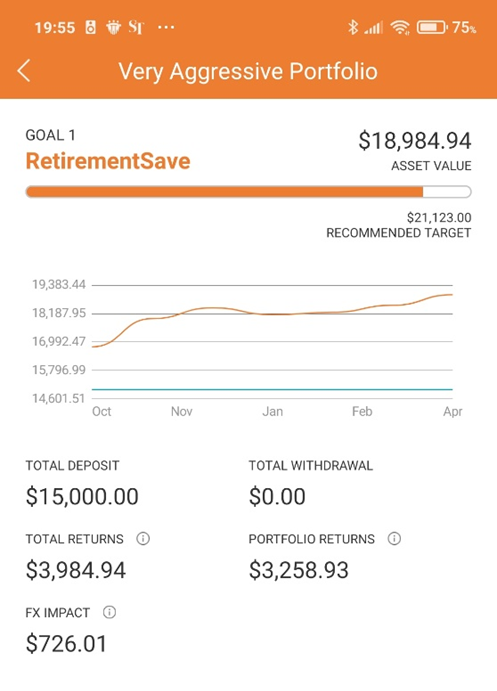 It was a chance to road-test our SqSave AI in a real market crash. Indeed, SqSave came through with flying colours. We were able to share how SqSave navigated the Covid-19 market crash in my May 2020 blog.
SqSave uses data to drive diversification and manage downside risks…
In particular, we highlighted how my SqSave portfolio fell just 10 per cent in the Feb-Mar 2020 crash versus the broader S&P500 index which fell 34 per cent!
My portfolio (which was funded in June 2019) was set at the Very Aggressive risk rating. By Jan 2020, it had appreciated from just SGD 15,000 to slightly over SGD 16,000. That was a return of over 7 per cent in just 8 months or about 11 per cent per annum. Not bad!
However, the Covid crash saw my portfolio value fall but SqSave was able to mitigate the downside and in May 2020, my portfolio was valued at about SGD 15,700 – still higher than my starting investment amount of SGD 15,000. This happy situation was the result of SqSave's diversification algorithms at work!
SqSave is perhaps the only fully AI-driven investment manager…
SqSave is a fully automated risk-based investment management service which uses machine learning AI techniques to construct and manage portfolios to target longer-term risk-adjusted returns.
In Mar 2020, I shared why taking out emotion and gut feel from conventional investment management is so important. I also explained how SqSave uses diversification through application of AI techniques to manage downside risks.
I have been an investment professional for many years. But I realised that I can only process a limited amount of complex information. Emotions also get the better of us. I accept that managing risk with precision is not humanly possible. Hence, I created SqSave to use data-driven AI to seek good returns for the risk taken.
Conclusion
Stay invested to reap better returns…
In my Jan 2021 blog, I stressed the need to take a truly investment approach instead of trading / market timing and to stay invested so that we can ride out the inevitable market volatilities. As you can see, my portfolio has managed to do just fine.
There is never a good time to invest, but to simply start early!
It's always important to know your risk appetite. Once you have decided, rest easy and let the market generate the returns with time.
SqSave focuses on risk management before chasing returns…
All investments carry risks. At SqSave, we use data and AI-driven methods to manage that risk through portfolio diversification.
Join the world of Smart Investing today at SqSave!
Regards
Victor Lye BBM CFA CFP®
Founder & CEO, SqSave
PIVOT Fintech Pte. Ltd.
Disclaimer
The contents herein are intended for informational purposes only and do not constitute an offer to sell or the solicitation of any offer to buy or sell any securities to any person in any jurisdiction. No reliance should be placed on the information or opinions herein or accuracy or completeness, for any purpose whatsoever. No representation, warranty or undertaking, express or implied, is given as to the information or opinions herein or accuracy or completeness, and no liability is accepted as to the foregoing. Past performance is not necessarily indicative of future results. All investments carry risk and all investment decisions of an individual remain the responsibility of that individual. All investors are advised to fully understand all risks associated with any kind of investing they choose to do. Hypothetical or simulated performance is not indicative of future results. Unless specifically noted otherwise, all return examples provided in our websites and publications are based on hypothetical or simulated investing. We make no representations or warranties that any investor will, or is likely to, achieve profits similar to those shown, because hypothetical or simulated performance is not necessarily indicative of future results.
More Articles more